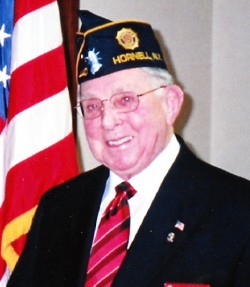 William L. "Bill" Brown – 82 – of Hornell, died Wednesday morning (June 6, 2012) at his home, following a long illness.
Born in Hornell on October 7, 1929, he was the son of LeVerne & Bernice (Bicknell) Brown.  Bill grew up in Hornell and attended Hornell Public Schools until graduation from Hornell High School in 1948.
In December, 1948, Bill began working at the New York State Department of Transportation (NYSDOT), Division of Engineering, district No. 6, in Hornell, NY. 
Bill was a veteran of the US Army during the Korean Conflict, serving his country from 1951 – 1953.  Following his Honorable Discharge in February, 1953, he returned to the NYSDOT to become a civil engineer and in April, 1981, received the Engineer of the Year Award.  In May, 1986, Bill retired following 37 ½ years of service.In February, 1953, Bill joined the Arthur Cunningham American Legion Post 440 in Hornell.  He served as Post Commander from 1961-1962.  Bill was also past NYS County Commander, NYS District Commander, NYS Vice Department Commander, NYS Department Commander and served as National Executive Committeeman.  He served on the Board of Directors of Hornell Post 440 and was awarded Life Member on March 17, 1968.  He was also a member of the Anavicus.
Other memberships include Loyal Order of Moose 210, Benevolent Order of Elks 365, Veterans of Foreign Wars (VFW) 2250, AM VETS and Hornell Association. 
Bill was a former member of the Westminster Presbyterian Church and most recently was a member of the Hornell United Presbyterian Church.  He enjoyed golfing and had been a member of the Hornell Country Club.  He also enjoyed bowling and had bowled on the American Legion Team at the Hornell Bowl.  Bill enjoyed watching sporting events on TV and was an avid fan of the Cleveland Browns and also loved rooting for the Boston Red Sox.
In addition to his parents, he was preceded in death by his son, Daniel Brown; his brothers, Robert Brown, LaVerne "Short" Brown, Jack Brown & Donald Brown; 1 sister, Lucy Olds.
He was married in July, 1973 to the former Eleanor Yeoman who survives.  Also surviving are 2 sons, Mark Brown of Ormond Beach, FL and William Brown of Ormond Beach, FL;  1 daughter, Debra Griffin of Ormond Beach, FL; 3 brothers, Roland "Buzz" (Sandra) Brown of Bath, James (Sandra) Brown of Hornell, Thomas (Barbara) Brown of Hornell;  4 sisters, Carolyn Tibbott of Hornell, Marilyn Alsheimer of Hornell, Margaret "Pug"  (William) Nasca of Hornell and Barbara (Frank) Brown of Dingman's Ferry, PA; sister in law, Sally Brown; two grandchildren; many nieces & nephews, including Nancy (Dave) Watt, John (Wendy) Brown & Jeffery (Jill) Brown.
The family of William L "Bill" Brown will receive friends on Sunday from 3:00 PM – 7:00 PM at the Dagon Funeral Home, 38 Church St., Hornell, NY, where an American Legion Service will be held at the conclusion of calling hours.  Funeral services will be held on Monday at 11:00 AM at United Presbyterian Church, Main St., Hornell, NY with Rev. David Kilgore officiating.  Burial will in St. Mary's Cemetery with full military honors.
Bill's family request that memorial contributions in his name be made to Southern Tier Hospice, 11751 East Corning Road, Corning, NY 14830.  Envelopes will be available at the Dagon Funeral Home.
In honor of Bill's service to his county during the Korean Conflict, the American Flag at the Dagon Funeral Home will be flown at Half-Staff.