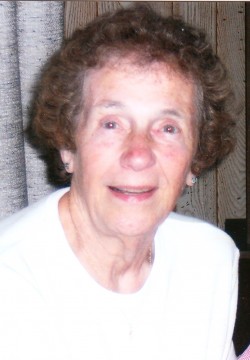 Rosemary M. "Mitzie" Murphy – 81 – of 116 Maple St., Hornell, died Friday morning (June 22, 2012) at St. James Mercy Hospital surrounded by her loving family.
Born in Hornell on December 13, 1930, she was the daughter of Edward & Katherine (Hennessy) McEntee.
A lifelong resident of Hornell, Mitzie was a graduate of St. Ann's School (class of 1945) and later graduated from Hornell High School (class of 1949).  For two years she attended Geneseo State College where she majored in Librarian and Elementary Education. 
Rosemary was employed for 2 years as a secretary in the Order Department of the former SKF Industries.  She later served as a substitute teacher at St. Ann's School under Sister Mary Irma for 3 years and as secretary of St. Ann's School for 29 years.  She retired in 1998.Mitzie was a member of Our Lady of the Valley Parish and a communicant of St. Ann's Church where she was past president of the St. Ann's Mother's Club.  She served as a member of the St. James Hospital Auxiliary for 26 years and was a volunteer for several years at the hospital.  Rosemary was also a member of the Hornell Association, the Democratic Ladies and Ladies of Columbus.
Rosemary was a devoted wife & loving mother & grandmother.  She loved working with children and caring for the elderly.  She thoroughly enjoyed working at St. Ann's School for 32 years and certainly made a difference in many young lives.  She also enjoyed gardening, crafts and baking. 
She was married on July 11, 1953 to Norman F. Murphy who died August 4, 2009 after 56 years of marriage.    She was also preceded in death by her son, Thomas Murphy  who died September 12, 2009;  2 brothers, Patrick McEntee and Philip McEntee; 1 sister, Joan McEntee.
Surviving are 1 son, Timothy Murphy of Chicago, IL; 3 daughters, Ann (Mike) Gonzales of Rochester, Susan (Dale) Gargiulo of Rochester & Patricia (Todd) Church of Virginia; 1 sister, Mary Frances Dunning of Hornell; 6 grandchildren, Katie (Kevin) Leonard, Kelly (Nick) Frechette, Jenny (Chris) Marciano, Meghan Gargiulo, Marissa Gargiulo & Matthew Gargiulo; 4 great-grandchildren, Jaxon, Keagan, Kira & Allie; many nieces & nephews.  She will also be sadly missed by her loving dog, Riley!
The family of Rosemary M. "Mitzie" Murphy will receive friends on Monday from 4:00 PM until 7:00 PM at the Dagon Funeral Home, 38 Church St., Hornell, NY.  A Mass of Christian Burial will be celebrated on Tuesday at 11:00 AM at St. Ann's Church with burial in St. Mary's Cemetery.
Mitzie's family request that memorial contributions in her name be made to either the Hornell Humane Society, 7649 Industrial Park Rd., Hornell, NY 14843 or to the American Cancer Society, 13 Beech St., Johnson City, NY 13790 or to American Heart Association, PO Box 3049, Syracuse, NY 13220.  Memorial forms will be available at the Dagon Funeral Home.