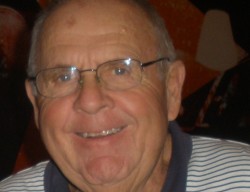 Duncan P. "Dunc" Hinckley, 81, of Chester, VA, formerly of Piffard, NY died Sunday, July 29, 2012 at the Hospice Center of  Charleston in Mount Pleasant, SC following a brief illness.
Dunc was born in Batavia, NY on December 25, 1930 and was the son of Percy & Sarah (Gardner) Hinckley.
He grew up in Alexander, NY and was a graduate of Alexander Central School (class of 1948).  In 1953 he graduated from SUNY Brockport where he received his BS Degree in Education.  He later received his Masters Degree in Education from SUNY Buffalo. Duncan served as a Health and Physical Education teacher as well as a swim coach at several schools in the Buffalo area, including Clarence, Lancaster, and Amherst.  He was a veteran of the US Army, serving his country for two years during the Korean War.
In 1967 he joined the staff at SUNY Geneseo as Associate Professor in the Physical Education Department.  He also served as coach for both golf and swimming.  Throughout Dunc's 26 years as Swim Coach, his teams won many titles & championships.  He hosted the NCAA Division 3 Nationals at SUNY Geneseo in 1979.   Dunc was also honored as "Coach of the Year" on several occasions and was elected to the Sports Hall of Fame at both SUNY Geneseo and SUNY Brockport.  He retired in 1993. 
Dunc initiated the Genesee Valley Swim Club, and also taught golf as part of the Elderhostel summer program at the college.  
Dunc was a member of the NCAA Swimming College Coaches Association and remained an avid swimmer throughout his lifetime.  He enjoyed playing tournament golf and won several awards.  He also enjoyed winter vacations with his family at Myrtle Beach and motor-homing throughout New York and Canada during the summer.  Dunc was a "die-hard" motorcyclist. 
He was married in the First Presbyterian Church of Hornell on March 25, 1978 to the former Linda Piccirillo who survives.   They resided in Piffard, NY prior to their moving to Virginia after his retirement. 
Other survivors include two daughters,  Lisa Reyes of Chicago, IL, Janette (Tim) Scott of Naples, FL; three sons, Scott (Mary) Hinckley of Pleasant Hill, CA, Alan (Isla) Hinckley of Raleigh, NC and Shawn Harris of Mt. Pleasant, SC; one sister, Joan (Harry) Moore of Fallbrook,CA;  his former wife, Barbara of Naples, FL; 14 grandchildren; 3 great-grandsons; several nieces & nephews.  Also surviving are his father and mother-in-law, Joseph and Pauline Piccirillo of North Charleston, SC, and his sister-in-law, Karen Piccirillo Kelly of Chester, VA.
 
He was preceded in death by his daughter, Christina Perry and also his sister, Sybil Matteson.
At Dunc's request there will be no prior calling hours.  Friends are invited to attend a Memorial service at SUNY Geneseo in the early fall, date to be determined.  Additionally, there will be a service at the home of Linda Hinckley in Chester, VA for close friends and family.  That date soon to be determined.
The family of Coach Hinckley request that, in lieu of flowers, memorial contributions be sent to the Geneseo Roundtable, SUNY Geneseo, Geneseo NY, 14454.  Donations should be sent in the name of Duncan Hinckley.
Funeral arrangements are in care of the Dagon Funeral Home, 38 Church St., Hornell, NY 14843.