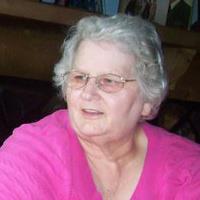 Janice A. Burdick – 72 – of 191 Juneway, Advance, NC died early Wednesday morning (August 22, 2012) at her home.
Born in Spring Mills, NY on November 5, 1939, she was the daughter of Russell & Genevieve (Bacon) Nye.
Janice grew up in the Whitesville area and attended Whitesville Central School and later Alfred-Almond Central School.  Throughout the years she resided in several locations, including Whitesville, Clarksville, Friendship, Massachusetts, the Alfred-Scio Area and Almond.  She had been employed in the custodial department of Alfred University.For the past 22 years, Janice has resided in North Carolina where she was employed in the custodial department of a local Motel in Wrightsville, NC.  For about 15 years she worked as a packer at Lee Jeans Corporation, retiring about 10 years ago.
Janice will be remembered for her deep love for her entire family, especially her children, grandchildren & great-grandchildren.  She will be sadly missed by everyone who had the pleasure of knowing her.
She was preceded in death by her son, Randy Burdick; 2 brothers, Ben Nye & Bill Nye; 1 sister, Joanne Burdick.
Surviving are 3 daughters, Barbara Mead of Mocksville, NC, Tammy Burdick of Hornell & Lynda Burdick of Attleboro, MA; 1 son, Raymond "Rusty" (Jill) Burdick of Hampstead, NC;  6 sisters, Betty (Ralph) Allen of Alfred Station, Shirley (Duane) Green of Alfred Station, Claudene (Kirk) Munsell of Lake Placid, FL, Linda (Steve Harvey) Trescott of Wilson, NY, Ruth (Dave) Kimble of Loveland, CO and Debra (Joe) Price of Alfred Station; 3 brothers, Virgil (Pat) Nye of Genesee, PA, Jim (Pam) Nye of Loveland, CO  and Dale Nye of Alfred Station; 1 aunt, June Truax of Alfred; 8 grandchildren; 8 great-grandchildren; many nieces & nephews.
The family of Janice A. Burdick will receive friends on Tuesday from 4:00 PM until 6:00 PM at the Dagon Funeral Home, 30 Church St., Hornell, NY where a Memorial Service will be held at the conclusion of calling hours at 6:00 PM with Pastor Steve Dygert officiating.