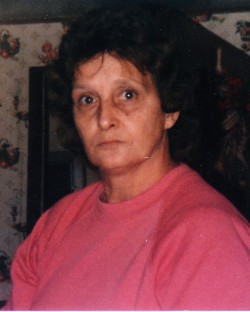 Nancy A. Whiteman – 75 – of 12 Ransom St., Hornell, died early Sunday morning (September 2, 2012) at Rochester General Hospital, where she had been a patient for the past 5 days.
Born in Erie, PA on February 25, 1937, she was the daughter of Gerald & Elizabeth (Ranwand) Kepner.
Nancy grew up in the Canaseraga area and attended Canaseraga Central School.  She has resided in Hornell for most of her adult life.
She had been employed as a production line worker for several years at the former Corbin Wood Products in Hornell and had also worked at the former Ontario Industries of Hornell and Birdseye Corporation in Avon, NY.  She later was employed as a cook at the Sunset Restaurant.Nancy had been a member of the Arkport Methodist Church and was a former member of the Hornell Moose Lodge and the Hornell American Legion.  She enjoyed working on crossword puzzles and was an avid NASCAR fan.  She was deeply devoted to her family, especially her grandchildren.
She was married to Darrell Gardner who died in 1967 and later was married to Tom Whiteman who died in 1992.  She was also preceded in death by her grandson, Joshua Tinsley who died in 1990; 1 great-grandson, Skyler Olds who died in 2001.
Surviving are 3 sons, Darrell Gardner of Hornell, Mike Gardner of Cohoes, NY & David (Lisa) Whiteman of Hornell; 2 daughters, Cheryl Olds of Hornell and Debi Gardner of Hornell; 1 brother, Alan "Dale" (Arlene) Kepner of Wellsville; 1 sister, Betty Jean (Terry) Clark of Cohoes, NY; 11 grandchildren, Katina (Robert) Fagnan, Nicholas Olds, Brett Gardner, Brandon Tinsley, Amanda Gardner, Christopher Gardner, Joe Whiteman, Heather (Curtis) Sanford, Jake Whiteman, Haley Whiteman & Robert Whiteman; 7 great-grandchildren, Alexus Fagnan, Alyssa Fagnan, Alaina Fagnan, Kaden Olds, Ethan Whiteman, Mykaily Whiteman & Kailien Sanford; several nieces & nephews.
The family of Nancy A. Whiteman will receive friends on Wednesday from 4:00 PM – 7:00 PM at the Dagon Funeral Home, 38 Church St., Hornell, NY, where funeral & committal services will be held at 11:00 AM on Thursday with Rev. Steve Jewell officiating.  Burial will be in Rural Cemetery.
Nancy's family request that memorial contributions in her name be made to the American Heart Association, PO Box 417005, Boston, MA  02241-7005.  Memorial forms will be available at the Dagon Funeral Home.