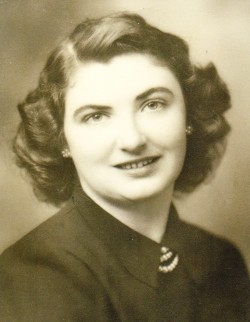 Elizabeth J. "Jean" Hanks – 86 – of 359 Karrdale Ave., (Knoll Crest Rd.), Almond, died Monday afternoon (December 17, 2012) at her home, following a long illness.
 Born in Wellsville, NY on September 2, 1926, she was the daughter of Patrick "Henry" & Sara Finola (Wiles) Hart.
 Jean grew up in Wellsville and was a graduate of Immaculate Conception Parochial School and later graduated from Wellsville High School (class of 1941). 
While living in Wellsville, she had been employed as a telephone operator for New York Telephone Company.  From 1944 – 1953 Jean resided in Alfred and has lived in Almond for the past 60 years.
For 57 years, Jean was employed at Alfred University in many capacities, including working in the Treasurer's office and Food Service Department.  She retired in 2001 as Administrative Assistant to the Director of Dining Service.
 She was a communicant of St. Brendan's Church of Almond where she had been a member of the Altar & Rosary Society.  In her younger years, she served as Boy Scout Leader for Boy Scouts of America.
 Jean was preceded in death by her son, William "Bill" Hanks who died February 25, 1971.  She was also preceded in death by 2 brothers, William Hart & Gerald Hart; 1 sister, Mary Esther Adams.
 Surviving are 3 daughters, Barb (Pat) McPoland of Simpsonville, SC, Marilyn (Bill) Weidman of Newburgh, IN and Nancy (Ed Ellington) Hanks of Almond; 1 sister, Julia "Judy" (Jim) Brush of Wellsville; 1 brother-in-law, Clint Adams of Rochester; 7 grandchildren, Shawn McPoland, Melissa McPoland, Jennifer McPoland, Mark McPoland, Billy Weidman, Kelly Weidman, Michael (Molly) Weidman; several nieces & nephews.
 The family of Elizabeth J. "Jean" Hanks will receive friends on Thursday from 6:00 PM  – 8:00 PM at the Dagon Funeral Home, 38 Church St., Hornell, NY.  A Mass of Christian Burial will be celebrated on Friday at 11:00 AM at St. Brendan's Church in Almond with burial in Woodlawn Cemetery, Almond.
 Jean's family request that memorial contributions in her name be made to Immaculate Conception School, 24 Maple St., Wellsville, NY 14895 or to Comfort House of Allegany County, 141 East State St., Wellsville, NY 14895.  Memorial forms will be available at the Dagon Funeral Home.