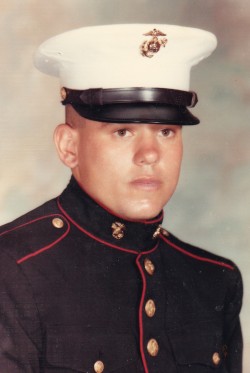 John N. "Floyd" Dugo – 63 – of 6948 Dennis Ave. Ext., Hornell, died Monday afternoon (December 17, 2012) at Robert Packer Hospital in Sayre, PA following a long illness.
A native & life resident of Hornell, he was born July 23, 1949 and was the son of John & Marie (Parmelee) Dugo.
Floyd was a graduate of Hornell High School (class of 1967) where he excelled on the football field, playing for the Hornell Red Raiders.  Following graduation, he enlisted in the US Marine Corps where he honorably served his country from 1968 – 1971.  While stationed in Viet Nam, Floyd served in communications as a radio operator.  During his military service, he received numerous medals, including the Viet Nam Cross Gallantry with Palm and the Combat Action Ribbon.
He was employed for about 35 years at the New York State Department of Transportation (NYSDOT) as an engineer, retiring about 5 years ago.  He was a member of the Hornell American Legion.
Floyd had been a member of Our Lady of the Valley Parish and a communicant of St. Ann's church.  He enjoyed stamp collecting and coin collecting.  He was a Boston Red Sox fan and an avid NY Yankee HATER!!  He also enjoyed rooting for the Buffalo Bills.  Floyd enjoyed playing golf with his many friends and was a member of the Twin Hickory Golf Club.  He was also an avid hunter & fisherman.
He was preceded in death by his father, John Dugo who died in 1998.
Surviving are his mother, Marie Dugo of Hornell; 1 sister, Lynn (Melvin) Cline of Almond; 2 brothers, Ben Dugo of Hornell and Dominic (Lori) Dugo of Jacksonville, NC; several aunts, uncles, cousins, nieces & nephews. He will be especially missed by his loving & trusted canine companion, Stimpy.
The family of John N. "Floyd" Dugo will receive friends on Friday from 3:00 PM  -  6:00 PM at the Dagon Funeral Home, 38 Church St., Hornell, NY where funeral & committal services with full military honors will be held at the conclusion of calling hours at 6:00 PM with Deacon Robert McCormick officiating.  Burial will be in the Bath National Cemetery, Bath, NY.
Floyd's family request that memorial contributions in his name be made to the Disabled Veteran's Association, PO Box 14301, Cincinnati, OH 45250-0301.  Memorial forms will be available at the Dagon Funeral Home.
In recognition of Floyd's service to his country during the Viet Nam conflict, the American Flag at the Dagon Funeral Home will be flown at half-staff.