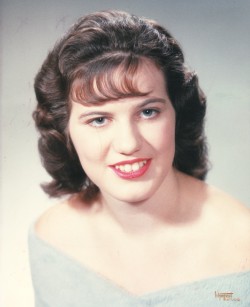 Eva A. Grimm – (70) – of 29 Cottage Ave., Hornell, formerly of Hill St., died Sunday afternoon (December 23, 2012) at her home following a long illness.
Born in Hornell on October 23, 1942, she was the daughter of Harold & Eunice (Moore) Graham and the step-daughter of Roy Graber.
Eva grew up in Hornell, Buffalo and Addison and was a graduate of Addison High School (class of 1961).  She later attended St. James School of Nursing and for a time was employed as a nurse's aide at St. James Hospital.
She was a former member of United Presbyterian Church and had been a member of the Hornell VFW, AMVETS, American Legion, Hornell Association and the Hornell Moose Lodge.  She enjoyed cooking, crocheting and spending time with her family.
Eva was married in 1960 to Francis J. Grimm who died in 2004.  She was also preceded in death by her great-granddaughter, Alana Rose Simms who died in 2005; 1 sister, Patricia Ann Graber; 1 brother, Harold Graham.
Surviving are 2 sons, Tim (Ella) Grimm and Bill (Sandy Coogan) Grimm, both of Hornell; 4 brothers, Roger (Sharon) Graham, Richard (Anna Mae) Graham, Eric (Betty) Graber & Roy Graber; 2 sisters, Melody Eaton and Kathy (Larry) Covell; 3 grandchildren, Tiffany Grimm, Alicia Grimm & Ryan McGregor; 2 great-grandchildren, Madyson Masterson and Alexis Masterson; nieces & nephews.
The family of Eva A. Grimm will receive friends on Saturday from 1:00 PM  -  3:00 PM at the Dagon Funeral Home, 38 Church St., Hornell, NY where funeral & committal services will be held at the conclusion of calling hours at 3:00 PM with Deacon Robert McCormick officiating.  Burial will be in St. Mary's Cemetery.
Eva's family request that memorial contributions in her name be made to the Hornell YMCA Pool Fund, 18 Center St., Hornell, NY 14843.  Memorial forms will be available at the Dagon Funeral Home.