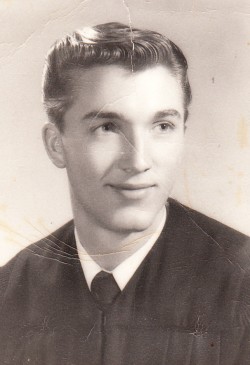 Roland D. Hale – 82 – formerly of Hamilton Hill Rd., Alfred Station, died Sunday afternoon (December 30, 2012) in Chicago, IL, where he has resided for the past 3 years.
Born in Oakfield, NY on May 24, 1931, he was the son of Edward & Eda (Bossler) Hale.
Roland grew up in Oakfield and was a graduate of Oakfield High School (class of 1947).  He attended Buffalo State College for 1 year before enlisting in the US Navy.  He served his country for 4 years during the Korean Conflict before being honorably discharged.
Following his discharge from the US Navy, Roland returned to Buffalo State College where he earned his Teaching Degree and also a Degree in Chemistry & General Science.  He later earned his Master's Degree in Chemistry.
Roland began his teaching career at Richburg High School in Richburg, NY where he taught Science.   While teaching at Richburg, he met his future wife, Patricia Cline who was a music teacher at the school.  For about 30 years, Roland taught chemistry at SUNY Alfred.  Following his retirement from teaching, he established a business operating an environmental testing laboratory testing soil & water.  He operated the laboratory until 2007.
He was a member of Our Lady of the Valley Parish and a communicant of St. Ann's Church.  He was a member of the American Chemical Society and the Baker's Bridge Historical Association.  Roland loved working in both his flower garden and vegetable garden and also planting trees.  He enjoyed his many years working on his farm and tending to his cows, chickens, goats & dogs.  He also loved taking his daily walks.
Roland was married on April 24, 1957 to the former Patricia Cline who died in 2005.  He was preceded in death by his son-in-law, Khalid Ashraf who died in 2007 and his grandson, John Dye who died in 2011.
Surviving are 3 daughters, Mary (Dale) Ashraf Pena of Victor, Ann (Gary) Dye of Hornell and Lisa (Brooks) Crankshaw of Chicago, IL; 3 grandchildren, Courtney (Bob Myers) Ashraf of Alfred, Danielle Dye of Hornell and Aline Crankshaw of Chicago, IL; several brothers, sisters, nieces & nephews.
At Roland's request there will be no calling hours.  Family & friends are invited to attend a Memorial Mass on Monday at 11:00 AM at St. Ann's Church with Fr. Paulinus Okpala and Deacon Robert McCormick officiating. 
Roland's family request that in lieu of flowers, memorial contributions in his name be made to either the Allegany County Office of the Aging, 6085 St. Rt. 19North, Belmont, NY 14813 or the Baker's Bridge Historical Association, PO Box 13, Alfred Station, NY 14803.