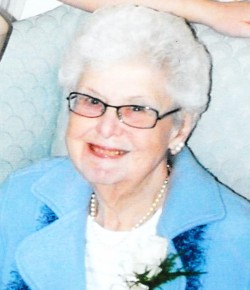 Luella D. Smith – (95) – formerly of 10 McDougall Ave., died Sunday afternoon (January 6, 2013) at Updyke's Willow Ridge Quality Care Facility where she has resided for the past two years.
Born in Perry, NY on October 30, 1917, she was the daughter of Lloyd & Alberta (Drew) Hoyt.
Luella was a graduate of Hornell High School (class of 1935).  In 1956 she was hired as the very first Teacher's Aid in Hornell, working at the former Irving School, where she later became a secretary.  She served as Hornell City Court Clerk for 15 years, retiring March 31, 1983.
Following her "retirement", Luella spent the next 15 years volunteering her time as a Teacher's Aid at St. Ann's School, often working with children "one-on-one".  She was a member of Our Lady of the Valley Parish and a communicant of St. Ann's Church.  She was active in the Hornell Alumni Association and had been a member of the Catholic Daughters of America, Ladies of Columbus, Women's Democratic Party and had served as director of the Hornell American Red Cross.
She was married on July 4, 1936 to Raymond L. Smith who died in 1967.  She was also preceded in death by her son, Raymond "Cadillac" Smith; her granddaughter, Megan Gleason; her grandson, Jeffrey Mulhollen; her brothers, Charles W Hoyt and Lloyd C "Chet" Hoyt.
Surviving are 3 daughters, Dolores Ann (Marvin) Konz of Rochester, NY, Marilyn (Karam) Batra of Fairfax, VA and Linda (Jim) Gleason of Hornell; her daughter-in-law, Judy Smith; her sister-in-law, Katherine Hoyt; 13 grandchildren; 17 Great-grandchildren; several nieces & nephews.
The family of Luella D. Smith will receive friends on Wednesday from 5:00 PM until  7:00 PM at the Dagon Funeral Home, 38 Church St., Hornell, NY.  A Mass of Christian Burial will be celebrated at 11:00 AM on Thursday at St. Ann's Church with burial in St. Mary's Cemetery.
Luella's family request that in lieu of flowers, memorial contributions in her name be made to either St. Ann's Academy, PO Box 446, Hornell, NY 14843 or the Hornell Alumni Association, PO Box 135, Hornell, NY 14843.  Memorial forms will be available at the Dagon Funeral Home.