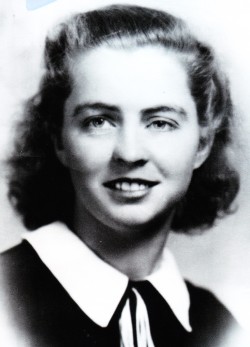 Marguerite Lorraine Cullen – (89) – a resident of McAuley Manor, went to Heaven Wednesday morning (January 9, 2013) following a long illness.
A native & life resident of Hornell, she was born Christmas Eve 1923 to William & Cecelia (Horton) Furlong.
Marguerite attended Hornell High School, Class of 42 and later earned her Nurse's Aide Certificate.  Throughout the years, she worked as a "Private Duty Care Giver" and also was employed at Hornell Gardens & Clancy's Nursing homes.
She had been a communicant of St. Ignatius Loyola Church and more recently was a communicant of
St. Ann's Church. 
In her younger years, Marguerite was a tap dancer and actually won $100 in a tap-dancing contest in Hornell in 1937.  She enjoyed playing bingo and also liked to make an occasional wager at OTB.  Mostly she will be remembered as a loving and caring Mother and Grandmother. Affectionately, known as "Gigi" and "Gramma Maggie"
Marguerite was married on August 30, 1945 to John "Jack" Cullen who died in 1981.  She was also preceded in death by 2 brothers, William "Duke" Furlong and Robert "Bob" Furlong; as well as several brothers-in-law and sisters-in-law.
Surviving are 3 sons, Joseph "Joe" Cullen of Hammondsport, John Cullen of Hornell and Robert Cullen of Hornell; 3 daughters, Patricia Kelleher of Hornell, Linda (Thomas) Panter of Hornell and Mary Margaret Cullen of Painted Post; 1 brother, Donny (Bonnie) Furlong of Rochester; 1 sister, Carolyn Prattico of Rochester; her 12 Grandchildren, Lisa (Randy) Bebout, Jim (Kim) Kelleher, Michael  Kelleher, Kelly (Jeff) Brock, Bil (Erin) Panter, Tommy (Angela) Panter, Kristy Panter, Christine Cullen, Patrick Cullen, Brandy Cullen, Holly Cullen and Christopher Cullen. 21 Great-grandchildren; several Nieces & Nephews.  Other relatives include her brothers-in-law & sisters-in-law.
 
The family of Marguerite Lorraine Cullen will receive friends on Friday from 4:00 PM until 6:00 PM at the Dagon Funeral Home, 38 Church St., Hornell, NY where funeral & committal services will be held at the conclusion of calling hours at 6:00 PM with Deacon Robert McCormick officiating.  Burial will be in St. Mary's Cemetery.
Marguerite's family request that memorial contributions in her name be made to Pathways, inc, 129 Forest Dr., Painted Post, NY 14870.  Memorial forms will be available at the Dagon Funeral Home.