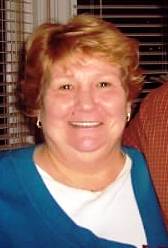 Diane Lynn (Coogan) Terpstra – 58 – of 44 East Washington St., Hornell, died Monday evening (January 28, 2013) at Strong Memorial Hospital in Rochester, following a brave battle with pancreatic cancer.
Born in North Hornell on September 28, 1954, she was the daughter of William & Joyce (Hallett) Coogan who preceded her in death.
Diane grew up in Hornell where she attended Hornell High School.  She was known for her beautiful flowers she planted in her front yard, and her open door to all family and friends who sat around her kitchen table.  One of the many important things in life for Diane were her children and grandchildren and enjoyment of watching her grandkids play sports. Diane was known for her loving, caring ways towards everyone.  She will always be loved and never forgotten.  
She was married on May 26, 1972 to Richard "Rick" Terpstra who survives.  Also surviving are 2 daughters, Becky Oviedo of Athens, GA and Erin (Scott) Button of Hornell; 2 sons, Michael (Anissa) Terpstra of Columbia, SC and Joseph (Jenny) Terpstra of Roswell, GA; 5 brothers, Michael (Yonnie) Coogan of Tacoma,WA, Patrick Coogan of Hornell, William Coogan of Hornell, David Coogan of Athens, GA and Daniel (Wanda) Coogan of Concord, NC; 3 sisters, Karen Giovaniello (Fred – deceased) of Hornell, Jana Clark (Bill – deceased) of Hornell and Kathleen (Olds) Harris of Hartwell, GA; 11 grandchildren, Kelsie Oviedo, Connor Oviedo, Ethan Button, Isabelle Button, Gabriel Button; Samuel Terpstra, Benjamin Terpstra, Noah Terpstra, Avery Terpstra, Charles Terpstra and Jonathan Terpstra; many nieces & nephews.
The family of Diane L. Terpstra will receive friends on Friday from 4:00 PM – 6:00 PM at the Dagon Funeral Home, 38 Church St., Hornell, NY where funeral & committal services will be held at the conclusion of calling hours at 6:00 PM with Pastor Doug Jones officiating.  Burial will be in St. Mary's Cemetery.  Reception following for family and friends at Hornell Moose Lodge.