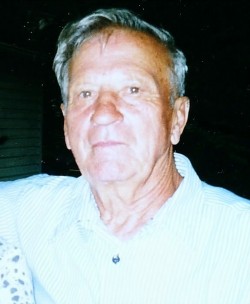 Joseph T. "Joe" Dropp – 89 – of Susquehanna, PA, formerly of Hornell, died Sunday morning (February 3, 2013) at the Barnes Kasson Nursing Facility in Susquehanna, following a brief illness.
Born in Susquehanna on June 14, 1923, he was the son of Stephen & Katherine (Belko) Dropp.
Joe grew up in Susquehanna and was a graduate of Susquehanna High School.  He was a veteran of WWII serving in the US Air Force.  Joe moved to Hornell in the mid 1940's where he resided for about 30 years.  He returned to Susquehanna where he has lived for nearly 40 years.
For over 40 years, Joe was employed as a mechanic for the former Erie Railroad, Erie Lackawanna & Conrail, retiring about 29 years ago.  He was considered an extremely talented mechanic despite losing his left arm in a work related accident. 
While living in Hornell, Joe was a communicant of St. Ignatius Loyola Church and later was a member of St. John's Church in Susquehanna.  He had been a member of the Hornell Knights of Columbus and also the Susquehanna Knights of Columbus and was a former member of the Susquehanna Moose Lodge and American Legion.
Joe enjoyed hunting, especially deer & rabbits, which was no easy task with one arm.  He was also and avid New York Yankee fan.
He was married on July 8, 1943 (69 years) to the former Rita Harrington who died September 16, 2012.  He was also preceded in death by 2 sons, Gerald Dropp & Thomas Dropp; 5 brothers & 3 sisters.
Surviving are 2 sons, Joseph (Mary) Dropp of Hornell and Michael (Patrice Campbell) Dropp of Cortland, NY; 2 daughters, Patty Dropp of Rochester and Liz (Wes) Ramsey of Youngsville, PA; 9 grandchildren; 18 great-grandchildren; 2 great-great grandchildren; several nieces & nephews.
The family of Joseph T. "Joe" Dropp will receive friends on Thursday from 5:00 PM – 7:00 PM at the Dagon Funeral Home, 38 Church St., Hornell, NY.  A Mass of Christian Burial will be celebrated on Friday at 11:00 AM at St. Ann's Church with burial in St. Mary's Cemetery.
Joe's family request that memorial contributions in his name be made to Barnes Kasson Hospital SNF, 2872 Turnpike St., Susquehanna, PA 18847.  Memorial forms will be available at the Dagon Funeral Home.
In recognition of Joe's service to his country during WWII, the American Flag at the Dagon Funeral Home will be flown at half-staff.