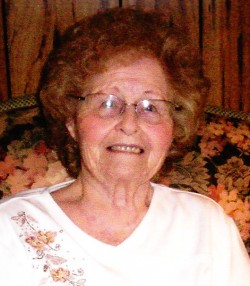 Janet T. Grassi – 94 – of 18 Marick Park Drive, North Hornell, died Tuesday afternoon (February 19, 2013) at Rochester General Hospital, following a brief illness.
Born in Hornell on May 25, 1918, she was the daughter of Frank & Mary (Falco) Miller
Janet grew up in Hornell and was a graduate of St. Ann's School.  She was employed for several years at the former Merrill Hosiery in Hornell and later worked in the cafeteria at Hornell High School. 
From 1964 – 1968 she and her family resided in Wayne, NJ and Pequannock, NJ.  In 1968 the family moved to Callicoon, NY where they resided for about 3 years.  The Grassi family has resided in the Hornell – Canisteo area since 1971.  In later years, Janet & her husband, Toby traveled extensively throughout the United States, re-connecting with family and lifelong friends.
Janet was a member of Our Lady of the Valley Parish and a communicant of St. Ann's Church.  She was a former member of the Ladies of Columbus.   Janet enjoyed spending time in her kitchen cooking & baking and also liked reading cookbooks.  She enjoyed watching TV — especially soap operas, Everybody Loves Raymond & the Golden Girls. 
She was married on April 21, 1945 to Toby Grassi who died March 11, 1998.  She was also preceded in death by her grandson, Adam Criss; 2 sisters, Rose Schiavi & Ann Miller; 3 brothers, Joseph Miller, Anthony Miller & Edward Miller.
Surviving are 3 daughters, Mary Ann (Robert) Criss of Hornell, Linda (Russ) Ryan of Rochester and Patricia Grassi of Clearwater, FL; 1 son, Michael (Nell) Grassi of Arlington, TX; 1 sister, Lucy (Francis "Joe") Solo of Hornell; 6 grandchildren, Amanda Criss, Aaron Criss, Gina (Mark) Hurley, Sean (Jaclyn) Ryan, Jessa (Jared) McClure & Mitchell Grassi; 6 great-grandchildren, Daniel, Tyler, Makayla, Erika, Adalyn & Asa; several nieces, nephews, great-nieces & great-nephews.
The family of Janet T. Grassi will receive friends on Monday from 5:00 PM – 7:00 PM at the Dagon Funeral Home, 38 Church St., Hornell, NY.  A Mass of Christian Burial will be celebrated at 10:00 AM on Tuesday at St. Ann's Church.  Burial will be in St. Mary's Cemetery.
Janet's family request that friends have Memorial Masses celebrated in her memory.