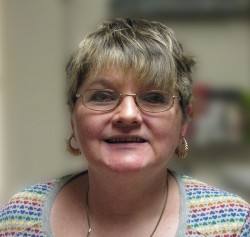 Michelle G. "Mickey" George – 59 – of 34 Sawyer St. Site, Hornell, died Thursday afternoon (February 28, 2013) at St. James Mercy Hospital, following a long illness.
She was born in Hornell on October 12, 1953, and was the daughter of Gilbert & Carmella (Constantino) Carlton.
Michelle grew up in Hornell and was a graduate of Hornell High School (class of 1971).  She resided in Rochester for several years where she had been employed as a waitress.  After moving back to Hornell, she worked in the meat department of the former ACME Grocery.
She had been a member of the Free Methodist Church in Hornell.  Mickey enjoyed music (especially Christian music), had a beautiful voice & enjoyed singing.  She liked watching NASCAR on TV and loved keeping in touch with family & friends via telephone.  Michelle also enjoyed camping & fishing.
In addition to her parents, Michelle was preceded in death by her sister, Molly Ann Carlton who died in 1951.
She was married January 8, 2005 to Paul George who survives.  Also surviving are 3 daughters, Molly Patterson of Hornell, Christina Patterson of Hornell and Elizabeth  Burton of Hornell; 4 step-children, Jason George, Joshua George, Jacob (Kim) George & Amanda Rochester; 1 brother, Gilbert "Gil" Carlton of Hornell; 2 sisters, Cindy (Bob) Stone of Rochester and Duffle Powell of Pensacola, FL; several grandchildren, nieces & nephews.
The family of Michelle G. "Mickey" Carlton will receive friends on Monday from
10:00 AM – 11:00 AM at the Dagon Funeral Home, 38 Church St., Hornell, NY where a Memorial Service will be held at the conclusion of calling hours at 11:00 AM with Deacon Robert McCormick officiating.