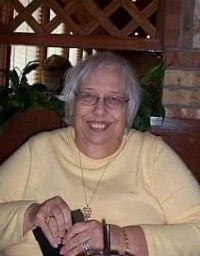 Wilhelmina M. "Billie" (Erdin) Dunkley – 73 – of 276 Knollwood Road, Arkport, died Monday  (December, 26, 2016) at her St. James Mercy Hospital following an  illness.
She was born in Paterson, NJ on October 31, 1943 to the late Anna Marie Mayer.
Wilhelmina grew up in Paterson and attended St. Joseph High School (class of 1959).  After graduation, Billie moved to Rochester, NY, where she was employed for about 20 years at the Eastman Kodak Company as a payroll clerk.  She then became the City Clerk for the City of Rochester until her retirement in 2005.  Billie lived in Rochester for most of her adult life until moving to the Arkport area about four years ago to be closer to family.
Lovingly referred to as the "Garage Sale Queen" by her family, Billie loved visiting and collecting items from garage sales.  She would even find treasures along the roadside to add to her collection and sell on eBay.  Billie especially loved collecting Fenton glass and jewelry.  She also enjoyed playing BINGO, and, when unable to attend BINGO games, she would play slots and BINGO on the computer.
Billie was married to John Dunkley, who survives.
In addition to her husband, John, Billie is survived by her son, Andrew (Juliann) Erdin of Arkport; four grandchildren, Crystal (Jason) Reeves or Arkport; Samantha (Zach) Billings of Hornell; Laurie Herold of Hornell; and AJ Erdin of Arkport; 7 great-grandchildren, Sania Diaz, Alex Diaz, Ruben Diaz, Dominic Hess, Timothy Conley, Anna Hess, and Brian Hess.
At Billie's request, there will be no calling hours.  Private services will be held at the convenience of the family.  Funeral services are in care of the Dagon Funeral Home, 38 Church St., Hornell, NY.
Billie's family requests that memorial contributions in her name be made to ­­­­­­­­­­­­­the Hornell Area Humane Society, 7649 Industrial Park Road, Hornell, NY 14843.  Click here to print a Memorial Form.