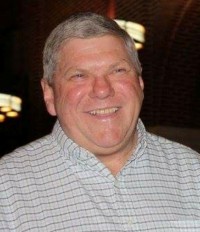 Larry E. Clark – (62) – of 53 John St., Hornell, died Monday morning (April 24, 2017) following a long illness.
Born in North Hornell on January 1, 1955, he was the son of Kenneth & Erma (Weaver) Clark.
Larry resided in the Hornell / North Hornell area for most of his life and was a graduate of Hornell High School (Class of 1973).  Following graduation from high school, he worked various jobs in the Hornell area and also traveled to Colorado where he resided for about 6 months.  In 1976, he decided to further his education and enrolled at Alfred State College where, in 1978, he graduated, earning his Associate's Degree in Plumbing & Heating.
For about 5 months, Larry served as Superintendent of Buildings and Grounds for St. Ann's Parish, overseeing and maintaining St. Ann's Church, St. Ann's Rectory, St. Ann's School, St. Ann's Cemetery and St. Mary's Cemetery.  In October of 1978, he began his career at National Fuel and, throughout the years, was employed in various capacities, including meter reader and backhoe operator.  He retired in 2008 as Regulator & Measurement Technician following 30 years of service.
He was a member of Our Lady of the Valley Parish and a communicant of St. Ann's Church.  Throughout the years he had been a member of various organizations, including the Knights of Columbus, Loyal Order of Moose, Hornell Elks Lodge, Hornell Association, Carducci Lodge (Sons of Italy) and the Dansville Fish & Game Club.
Larry enjoyed the outdoors and was an avid fisherman and especially enjoyed fly-fishing. He enjoyed watching football on TV and loved rooting for his beloved Buffalo Bills.  In his younger years, Larry was a member of Cub Scouts of America and Boy Scouts of America and later decided to give back and became a Scout Master, helping to shape young minds in the community.  To know Larry was to love him, as he had the biggest heart and a smile that would melt yours.  He loved his family with every ounce of his being and enjoyed his grandchildren beyond imagination.  He was loyal, patient, kind and never said a bad word about anyone.
Larry was known for his quick wit and classic one-liners.  He was always able to put a smile on your face, no matter the circumstance.  He taught his family the importance of slowing down and appreciating the little things…a lesson that will be treasured forever.
He was married on September 1, 1978 to the love of his life, the former Mary Dagon who survives.  Also surviving are 2 sons, Christopher "Chris" (Katie) Clark of Hornell and Adam (Jody Mosher) Clark of Hornell; 2 daughters, Marieka (David) Woolever of Hornell and Colleen (Kyle) Amidon of Hornell; 1 brother, Rodney "Rod" Clark of Hornell; 1 sister, Candace "Candy" Caddell of Leroy, NY; 5 grandchildren, Eleanor "Ellie" Clark, Charlotte "Charlie" Clark, Benjamin "Ben" Woolever, Abigail "Abby" Woolever,  Ayla Amidon and baby Tessa Amidon (due May 2017), many in-laws, "out-laws", nieces and  nephews, all of whom  he adored.
The family of Larry E. Clark will receive friends on Thursday, April 27th from 4:00 PM – 7:00 PM at the Dagon Funeral Home, 38 Church St., Hornell, NY.  A Mass of Christian Burial will be celebrated on Friday, April 28th at  2:30pm at St. Ann's Church with burial in St. Mary's Cemetery.
Larry's family request that in lieu of flowers, memorial contributions in his name be made to St. Ann's Academy,
PO Box 446, Hornell, NY.  Memorial forms will be available at the Dagon Funeral Home or click here to print a form.