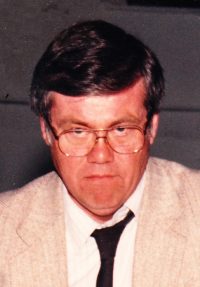 Jerry L. Shoemaker – 75 – of Elmira, NY, passed away early Monday morning (October 23, 2017) at his home.
Born in Elmira, NY on May 14th 1942, he was the son of the late Raymond E. and the late Audrey M. (Wright) Shoemaker.
Jerry is survived by his wife Susan (Bennett) Shoemaker; his daughter Donna R. (Shoemaker) Donahue; his son Jerry R. Shoemaker; several grandchildren & great grandchildren. He is also survived by his very good friend Travis McDonald.
He was predeceased by his daughter Kelley J. (Shoemaker) Bailey.
Jerry was a wholesale food owner & business man for over 43 years. He also owned & operated apartment rentals for over 30 years.
He was President of Southport Jaycees for 2 years in the 1970's and was a lifetime member of Jaycees International. Jerry served as president of the Elmira Kennel Club for 3 years in the 1980's.
For over 25 years, Jerry's passion was raising, breeding & showing English Bulldogs. He raised five homebred champions with one, "Dirty Harry", who earned 2nd place at the Nationals. Jerry was also a member of the Bulldog Club of America for over 20 years.
At Jerry's request there will be no calling hours. A Memorial Service will be held on Sunday, (November 5, 2017) at 4:00 PM at the United Methodist Church, 1238 Pennsylvania Ave., Elmira, NY. Please bring a dish to pass for the fellowship meal following the service! Jerry will be laid to rest in Fitzsimmons Cemetery on Maple Ave., Southport, NY.
Funeral arrangements are in care of the Dagon Funeral Home, 38 Church St., Hornell, NY.
Jerry's family request that in lieu of flowers, memorial contributions in his name be made to the Hornell Humane Society, 7649 Industrial Park Road, Hornell, NY 14843