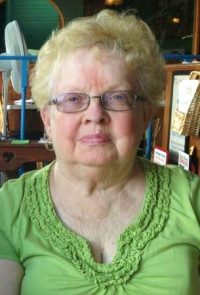 Anne M. Lorow, 86, of Taylor Mill, KY, formerly of Almond, New York, passed away on Thursday, December 13, 2018.
Born in Honeoye Falls, NY on September 18, 1932, she was the daughter of William & Frances (Fisher) Boag.
Anne grew up in Hornell and was a graduate of Hornell High School (class of 1950).
For a brief period, she worked in the cafeteria at the Alfred-Almond Central School and for about 30 years served as a teller at Key Bank in Alfred, retiring about 23 years ago.  Following her retirement, she resided in Florida for over 20 years.
She was an avid reader and especially enjoyed reading Danielle Steele novels.  She had been member of the Red Hat Ladies and also a member of the Almond Union of Churches.
Anne was married on October 20, 1951 to Dale Lorow who died in 2007.  She was also preceded in death by her sister, Donna Boag.
She is survived by her daughter: Robin (Brian) Fischer; sons, Doug Lorow, Steve (Dee) Lorow and Scott (Debbie) Lorow; 8 grandchildren and 6 great-grandchildren.
A Memorial Service will be held on Saturday, Saturday (March 2, 2019) at 11:00 AM at the Almond Union of Churches with Rev. Charlie Emerson officiating.  Final interment will be in Woodlawn Cemetery, Almond.
Funeral arrangements are in care of the Dagon Funeral Home, 38 Church St., Hornell, NY
Anne's family request that in lieu of flowers, memorial contributions in her name be made to the Almond Historical Society, PO Box 203, Almond, NY 14804.