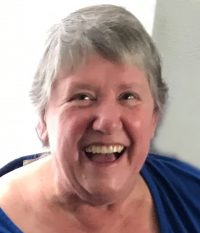 Deborah Jane Kellogg (Cartwright), 65, of Chesapeake, VA, formerly of Hornell, passed away Tuesday, April 16, 2019 at Sentara Princess Anne Hospital, Virginia Beach, VA., following a battle with leukemia.
Born in Hornell, NY, she was the daughter of Ruby Helen Kellogg.
Debbie was a graduate of Canisteo Central School.  She was a long-time employee of Morrison Knudsen in Hornell.  More recently she was retired from Northrop Grumman Shipbuilding, Newport News, VA, where she took great pride for many years in working on a variety of our nation's military warships.
She loved spending time with her family and was an avid card player.  She hosted and attended many family get-togethers.  Debbie could take the worst moment and still keep a smile and make others smile.  She believed life was too short to not enjoy every moment and create as many stories as possible to share.
She was predeceased by her brother, Lonnie Kellogg.
Debbie is survived by three children, Chad Kellogg and his former wife Courtney of Chesapeake, VA, Kara Srednecki (Cartwright) and her husband Dave of Portsmouth, VA, Laura Cartwright of Virginia Beach, VA, and eight grandchildren, Skylar Kellogg and Sean Kellogg of Chesapeake, VA, Julian Anderson of Killeen, TX, Aiden Srednecki, William Srednecki, Kevin Srednecki, Aurora Srednecki and Nathaniel Srednecki all of Portsmouth, VA.  Also surviving are two sisters, Fran Makitra, Chesapeake, VA, Shirley Miller, Hornell, NY, and two brothers, Richard Kellogg of Hornell, NY, and Leslie Kellogg of Florida.
At Deborah's request there will be no calling hours.  Private graveside services will be held at Rural Cemetery at the convenience of the family.
In memory of Debbie (Cartwright) Kellogg, friends are welcome to stop by and share a memory at the home of Rick and MaryEllen Kellogg, 44 Bennett Street, Hornell, between 4 and 6 pm on Friday, April 26th, 2019.
Funeral arrangements are in care of the Dagon Funeral Home, 38 Church St., Hornell, NY.