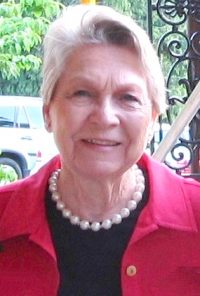 Hazel F. Mu – 103 – of Wilmington, NC, formerly of Hornell, died Nov 29, 2018 following a short illness.
Born in Kent's Store, VA on September 28, 1915, she was the daughter of Adam Liberty & Anna Mae (Grubbs) Cosner.
The oldest of 12 children, Hazel grew up on the family farm in Kent's Store, VA and was a graduate of Columbia High School (Class of 1933).  After earning an Bachelor's Degree from the University of Virginia, she graduated from nursing school in Roanoke, VA.
As a Registered Nurse, Hazel served her country in the US Navy during WWII.  While serving in the Navy, she met and married Lt. C. Bernard McAllister who was a pilot with the US marines and was killed in action during WWII.
Following her honorable discharge from the Navy, Hazel moved to Hornell in 1943 where she met Salvatore F. "Sal" Mu.  They were married in 1947 and remained devoted to each other until his death on January 4, 2000 following 53 years of marriage.
While living in Hornell, Hazel was an active communicant of St. Ann's Church where she volunteered her time helping out with various parish projects.  She was an avid golfer and was a member of the former Hornell Country Club.  Hazel enjoyed cooking and was a member of a local gourmet cooking club.  She also was an active volunteer for the Hornell American Red Cross.
In 1987, Sal & Hazel moved to Hilton Head, SC where they enjoyed the warmer weather and were able to play golf on a daily basis.  She loved working in her flower garden and for many years would take long walks on the beach — long before it was "fashionable."  She was an active member of Holy Family and St. Gregory Roman Catholic Church.  She resided in Wilmington, NC since 2006.  While living in the Carolinas, Hazel continued volunteering her time with the American Red Cross and also enthusiastically volunteered for the Volunteers in Medicine Clinic Hilton Head Island where former nurses were very much appreciated and needed.
In addition to her first husband, C. Bernard McAllister and her second husband, Sal Mu, Hazel was preceded in death by her son, C. Bernard McAllister III; 7 brothers; and 2 sisters.
Surviving are 2 sons, John Mu of Elmira and Dick (Dorie) Mu of Jacksonville, NC; 5 daughters, Anne (Steve) Miller of Cazenovia, NY, Theresa (Tom Jones) Thiel of Durham, NC, Marguerite (Larry Small) Mu of Jupiter, FL, Mary (Doug) Martin of Freeport, ME and Diane Ashby of Clarence, NY; 2 sisters, Merle C. Garner of Palmyra, Va.& Maryanne Woods of Newport News, Va. & sister-in-law Catherine (Kitty) Cosner & Elizabeth S. Cosner of Kents Store, VA;16 grandchildren; 13 great-grandchildren; many nieces & nephews.
A Private graveside service with Military Honors will be held on Saturday, June 1st, 2019 at 3:00 PM at St. Mary's Cemetery, Fremont, NY followed by a gathering of family & friends at the Hornell Golf Club.
Funeral arrangements are in care of the Dagon Funeral Home, 38 Church St., Hornell, NY. 
Hazel's family request that in lieu of flowers, memorial contributions in her name be made to the American Red Cross, 11371 LPGA Dr., Corning, NY 14564.