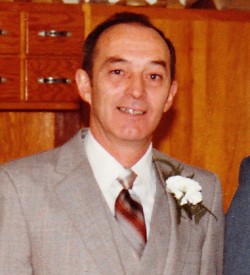 Theodore D. "Ted" Root – 79 – of 1 South Main St., Almond, died Saturday afternoon (March 3, 2012) at Hornell Gardens, following a long illness.
Born in Livonia, NY on February 25, 1933, he was the son of Donald & Loleta Root.
Ted grew up in Atlanta, NY and was a graduate of Naples High School (Class of 1951).  He later graduated from New York State Trooper Academy in Syracuse.  He was a veteran of the US Navy, serving his country during the Korean Conflict.  He has resided in Almond for the past 53 years.
From 1962 – 1982, Ted served as a New York State Trooper working out of the Almond Sub Station for most of those years.  Following his retirement from the Troopers, he was employed for several years as a bartender at the Hornell Elks Lodge and for about 15 years worked for AL Blades in Hornell. Ted was a member of the American Association of State Troopers and was a former member of the Hornell Elks Lodge.  He enjoyed visiting the casinos and has made a few trips to Atlantic City and many memorable trips to the casinos in Salamanca.  He also enjoyed staying in touch with his many friends via email and also playing solitaire on the computer.
He was preceded in death by his son, T. Donald Root and also his grandson, Eric Drake.
Ted was married on January 16, 1959 to the former Wilma Mullen who survives.  Also surviving are his daughter, Terri Jean Root Hirt of Olathe, KS; 2 step-sons, Jerry (Kathy) Drake of Almond and Guy (Eileen) Drake of Wellsville; 1 half-brother, Bob Leeson of Hawaii; 2 step-brothers¬, Stan (Phyllis) Rathbun of Atlanta, NY and Charlie (Gloria) Rathbun of Naples; 8 grandchildren, Ashley Hirt, Nate Hirt, Paul (Terri) Drake, Mary Bess (Shawn) Clark, Matthew Drake, Michelle Drake, Brian Drake and Greg Drake; 8 great-grandchildren' 1 great-great-granddaughter; several nieces & nephews.
At Ted's request there will be no calling hours.  Private services will be held at the convenience of the family.  Funeral arrangements are in care of the Dagon Funeral Home, 38 Church St., Hornell, NY.
Ted's family request that memorial contributions in his name be made to Southern Tier Hospice, 11751 East Corning Road, Corning, NY 14830.