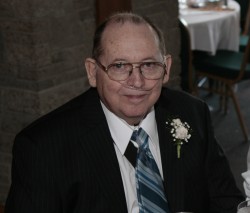 Lynn A. Brown – (81) – of 11 Sullivan St., Arkport, died Wednesday afternoon (March 21, 2012) at his home, following a long illness.
Born in Scio, NY on April 3, 1930, he was the son of Richard & Lila (Watson) Brown. 
Lynn was a graduate of the former Belmont Central School (class of 1948) and was a veteran of the US Army having been stationed in Germany during the Korean Conflict.  He has resided in Arkport since 1965.A carpenter by trade, Lynn was a member of the Carpenter's Union Local 66 out of Olean, NY.  He was also employed for about 17 years at Air Vent Aluminum of Arkport, retiring in 1992. He was a member of the Hornell VFW and also the Arkport American Legion.
He was married on July 20, 1952 to the former Gail Harding who died May 4, 1990.  He was also preceded in death by 2 brothers, Norman Brown and Clair Brown.
Surviving are 2 sons, Kenneth (Kathleen) Brown of Superior, MT and Jeffrey (Shelly) Brown of Canisteo, NY; 2 daughters, Carolyn "Carrie" (Ed) Howe of Arkport and Barbara (Greg) Kerrick of Wayland, NY; 1 sister, Lillian Guy of Dalton, NY; 9 grandchildren; 2 great-grandchildren; several nieces & nephews.
The family of Lynn A. Brown will receive friends on Sunday from 3:00 PM -  6:00 PM at the Dagon Funeral Home, 38 Church St., Hornell, NY where funeral & committal will be held on Monday at 11:00 AM with Rev. Steven Jewell officiating.  Burial will be in Arkport Cemetery.
Lynn's family request that memorial contributions in his name be made to the Arkport Fire Department, 6 Park Ave., Arkport, NY 14807 or to Southern Tier Hospice, 11751 East Corning Rd., Corning, NY 14830. Memorial forms will be available at the Dagon Funeral Home.
In recognition of Lynn's service to his country during the Korean Conflict, the American Flag will be flown at half-staff at the Dagon Funeral Home.