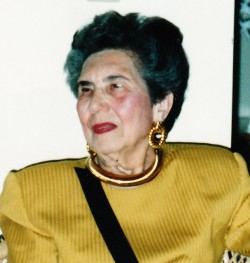 Marian O. Moretti – (93) – of 73 Elm St., Hornell, died Sunday afternoon (April 29, 2012) at McAuley Manor, following a brief illness.
A native & life resident of Hornell, she was born April 12, 1919 and was the daughter of Lawrence & Angelina (Massi) Lodato.
Marion was a graduate of Hornell High School (class of 1938).  She and her husband, Francis, owned & operated Moretti's Snack Bar which later became The Coffee Cup and is now Marino's Restaurant.  For several years she worked at Moretti's Liquor Store.
She was a member of Our Lady of the Valley Parish and a communicant of St. Ann's Church.  Marion had been a member of Ladies of Columbus, the Beato Angelo Society, St. James Women's Board and the Italian-American Women's Club.Marion was very creative and enjoyed drawing & sketching.  In her younger years, she had aspirations of becoming a fashion designer.  She enjoyed cooking & baking and, throughout the years, could always be found in her kitchen.
She was married on May 1, 1941 to Francis A. "Blackie" Moretti who died in 1991.  Marion was also preceded in death by her son, Larry Moretti who died at age 5; her daughter, Lucianne Moretti who died in 1999; 2 brothers, Salvatore "Sal" Lodato and Joseph Lodato.
Surviving are her son, Francis "Frank" Moretti of Rochester; 1 sister, Jeanette Lodato of Hornell; 4 sisters-in-law, Grace Eagan, Angeline Hayes, Rose Ann O'Connor and Mary Teresa Purtell; her dear friend, Katherine Dumo; several nieces & nephews.
The family of Marion O. Moretti will receive friends on Tuesday from 5:00 PM  -  8:00 PM at the Dagon Funeral Home, 38 Church St., Hornell, NY.  A Mass of Christian Burial will be celebrated on Wednesday at 11:00 AM at St. Ann's Church with burial in St. Ann's Cemetery.
Marion's family request that memorial contributions in her name be made to St. Jude Children's Hospital, PO Box 1000 (Dept. 300), Memphis, TN  38148.  Memorial forms will be available at the Dagon Funeral Home.