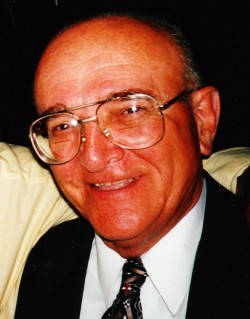 Robert J. "Bob" Argentieri – (86) – of 1130 Airport Road, Hornell, died Thursday morning (May 10, 2012) at Hornell Gardens, following a long illness.
A native & life resident of Hornell, he was born November 11, 1925, and was the son of Silvino & Dorothy (Feeney) Argentieri.
Bob was a graduate of St. Ann's School and later graduated from Hornell High School (class of 1944).  
From 1944 -1961 he was employed as an accountant at the Erie Accounting Bureau.  In 1961 he began working as a mail carrier for the US Postal Service, a position he held until 1984.  From 1984 – 1992 he worked at Off Track Betting in Hornell.
Bob was a member of Our Lady of the Valley Parish and a communicant of St. Ann's Church, where he served as an usher for many years.  He had also been a member of the St. Ann's Parish Council and served on the finance committee.  He was a member of the Hornell Knights of Columbus an also the Hornell Elks Lodge and had served on the Arkport School Board.  Bob was also an avid Buffalo Bills and New York Yankee Fan.He was married on September 1, 1947 to the former Virginia "Ginny" Leith who survives.  Also surviving are 2 sons, Robert (Anne) Argentieri of Holmes, NY and Jeff (Liz) Argentieri of Groveland, NY; 3 brothers, William "Chop" Dorothy Argentieri of Alfred, Francis "Babi" (Marianne) Argentieri of Hornell and James (Phyllis) Argentieri of Hornell; 1 sister, Mary Agnes (Donald) Crosby of Hornell; 6 grandchildren, Sam, Pete, Nellie, Danielle, Nick & Morgan; many nieces, nephews and cousins.
The family of Robert J. "Bob" Argentieri will receive friends on Sunday from 2 – 4 PM   and       7 – 9 PM at the Dagon Funeral Home, 38 Church St., Hornell.  A Mass of Christian Burial will be celebrated on Monday at 11:00AM at St. Ann's Church with burial in St. Mary's Cemetery.
Bob's family request the memorial contributions in his name be made to St. Ann's Church, 27 Erie Ave., Hornell, NY 14843 or to the Hornell YMCA, 18 Center St., Hornell, NY 14843.  Memorial forms will be available at the Dagon Funeral Home.
The Argentieri family would like to extend their appreciation to the wonderful staff at Hornell Gardens for the wonderful care given to Bob over the past few years.  They certainly made a difficult time much easier.  Thank-You!!