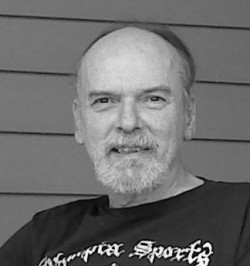 Walter M. "Ike" Schieder – 62 – of 480 Maple City Drive, Hornell, died unexpectedly Sunday afternoon (May 20, 2012) at his home.
Born in Hornell on August 12, 1949, he was the son of Joseph & Adele (Lucas) Schieder.
Although Ike was raised in Hornell, he attended Manlius Military School during his sophomore year.  He returned to Hornell High School for his junior & senior years and graduated with his class in 1967.  He later attended Monroe Community College and Alfred State College.
 
He had been employed as a lab technician at former Bethesda Hospital in the mid-1970s and had also worked at the former FBC Department Store.  For a time, Ike worked at the Alfred Ski Lodge in the maintenance department and making snow.Ike had been a member of Our Lady of the Valley Parish and a communicant of St. Ann's Church.  He also had been a member of the Aquinas Center.  He enjoyed woodworking & electronics and actually built a working solar heating system, years before they were commercially available.
Ike is survived by 2 sisters, Pauline (David) Porter of Allegany, NY and Suzanne (Donald) Palmer of Hornell; 1 brother, James (Stacia) Schieder of Hornell; 1 uncle, Richard "Dick" Schieder of Hornell; several nieces, nephews, great-nieces & great-nephews.
The family of Walter M. "Ike" Schieder will receive friends on Thursday from 10:00 AM until 11:00 AM at the Dagon Funeral Home, 38 Church St., Hornell, NY where a Memorial Service will be held at the conclusion of calling hours at 11:00 AM with Deacon Robert McCormick officiating. 
Ike's family request that memorial contributions in his name be made to: Mercy Flight: Mercy Flight Central, 2420 brickyard Road, Canandaigua, NY 14424.    Memorial forms will be available at the Dagon Funeral Home.