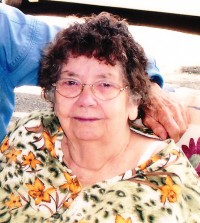 Genevieve "June" D'Apice – (90) – formerly of 7294 North Main St. Ext., Hornell, died Saturday afternoon (March 14, 2015) at Hornell Gardens where she had resided for the past 3 years.
Born in Elmer, PA on June 3, 1924, she was the daughter of Charles & Jenny (VanPelt) Cole.
June grew up in the Canisteo – Adrian area and was a graduate of Canisteo Central School.  She had been employed for several years at the former Dunn's Drug Store where she served as manager of the fountain.  She later worked in many capacities at Woolworth's Department Store where she especially enjoyed decorating the Easter Candy.  June had been employed at Modern Cleaners in Hornell and for about 14 years ran the Snack Counter at the Hornell Bowl.  Most recently she helped out at D'Apice Market which was located on the corner of River St. & John St. in Hornell.
As an avid animal lover, June enjoyed feeding the neighborhood dogs & cats and also loved feeding the birds.
June was married on October 24, 1945 to Robert D'Apice who died December 2, 2008.  She was also preceded in death by 2 grandsons, Matthew Luke D'Apice and Randy D'Apice; 2 brothers, Charles Cole & Walter Cole; 3 sisters, Marie Howland, Virginia Cotton & Maple Cole.