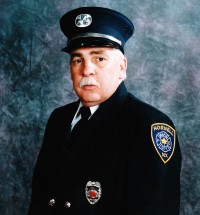 Stephen A. "Steve" Lamb – (62) – of 1190 County route 66, Hornell, died early Wednesday morning (October 15, 2014) at McAuley, following a long battle with Hemangiopericytoma, Anaplastic Astrocytoma, which left him totally paralyzed.
A native & life resident of Hornell, he was born May 30, 1952 and was the son of Donald & Adeline (Lester) Lamb.
Steve grew up in Hornell and was a graduate of Hornell High School (class of 1971).  Following graduation, he learned to operate heavy duty construction equipment.
For over 36 years, Steve fulfilled his dream as a firefighter for the Hornell City Fire Department.  In 1992, he was promoted to the rank of Captain, a position that he held until 2011 when he retired due to ill health.  For many years, he was a member of the International Association of Fire Fighters (IAFF).  He had also been a member of the former St. Paul's Lutheran Church of Hornell.