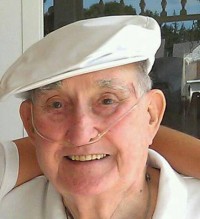 James J. Keenan – (83) – of 7 Pine St., Hornell, died Saturday afternoon (July 26, 2014) at McAuley Manor in North Hornell, following a brief illness.
Born in Jersey City, NJ on January 31, 1931, he was the son of James & Wilamena (Pritz) Keenan.
When he was 5 years old, Jim's family moved to Rochester, NY.  He was a graduate of West High School (class of 1948).  He was a veteran of the Korean Conflict, serving his country in the US Navy.
Jim was employed as a firefighter in Rochester for 30 years, retiring in 1988.  He lived in Florida for about 17 years and has resided in Hornell since June, 2008.
He was married on May 4, 1957 to the former Jean Herzog who died January 18, 2014.
Surviving are 3 daughters, Mary Frances (Ronald) Spataro of Rochester, Wendy (Richard) Chapel of Geneseo and Kathleen (David) Hillman of Hornell; 1 son, James J. Keenan of Rochester; several grandchildren; 1 great-granddaughter, nieces & nephews.