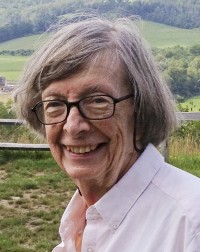 Diane D. Martin – 79 – of 71 South Main St., Alfred, NY, died Saturday morning (September 13, 2014) following a brief illness.
Born in Cincinnati, OH, on January 1, 1935, she was the daughter of Christian & Cornelia (van Schouwen) Dettmer.  She resided in the Alfred area for the past 48 years.
Diane grew up and attended high school in Cincinnati.  She earned her BA in history from Vassar College in Poughkeepsie, NY and later received an MS in art education from Alfred University. She also held an AAS in ornamental horticulture from SUNY Alfred.
As an instructor for SUNY Empire State College, Diane taught art and photography. Her own etchings and paintings were exhibited at the Oxford Gallery in Rochester, NY and other locations. Her love of gardening was intertwined with her work as an artist and writer. She enjoyed designing gardens as much as she did photographing and painting them. She published books and articles on gardening and herbs, and her much of her artwork incorporated garden themes.