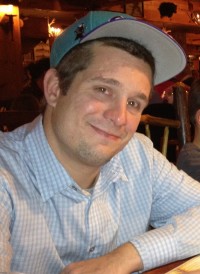 Christopher R. "Chris" Ames – 34 – of Rochester, formerly of Hornell, died Thursday afternoon (November 13, 2014) at Strong Memorial Hospital in Rochester, following a brief illness.
Born in North Hornell on July 4, 1980, he was the son of Richard Ames and the former Susan "Susie" Rowe.
Chris grew up in Hornell and was a graduate of Hornell High School (class of 1998).  While in high school, Chris played JV Football, St. Ann's basketball and also played in the Babe Ruth Baseball League.
Following high school, Chris worked for several years doing general construction as a carpenter / roofer with his father.  Throughout his 20's Chris toured the country as a "free spirit" following his favorite bands such as Widespead Panic, selling Tee Shirts and other items to support his "free spirit" life style and had a huge "festival family" with whom he traveled.  He loved this life and saw more places than one could dream of in a life time.  It was what he loved to do and music was very near and dear to his heart, especially his love for the Grateful Dead band.  In 2008 he worked as a sleep technologist doing sleep studies on patients at his stepfathers business New Life Sleep Consultants in North Carolina until it closed in 2010.  For the past four years, he has resided in Rochester, working as a self-employed carpenter and sub-contracting for Jon Grant Interiors.