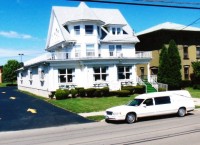 The staff at the Dagon Funeral Home realize that the loss of a loved one is one of the most difficult situations we face in life. This can be especially difficult if you are in charge of making the funeral arrangements.
We understand that there a numerous decisions to be made and issues to consider and we want to help you along the way.  Since 1883, the Dagon Funeral Home has been the leader in offering a variety of services to help ease the burden of making funeral arrangements and to ensure that each and every service is provided with dignity and within the financial means of everyone.
"Traditional" full-service funeral
A "traditional" funeral service generally includes embalming and other preparation of the deceased for viewing followed by visitation and formal funeral service.  Funeral services are usually followed by burial in a cemetery.
Full Service Funeral Followed By Cremation
This type of service is the same as a "traditional" funeral service except that cremation instead of burial follow the services.  Usually an inexpensive wooden casket or "cremation casket with an insert" is preferred. The ashes may be buried in a cemetery, scattered or simply remain with the family.
Direct Cremation
The body is cremated shortly after death, without embalming. The cremated remains are placed in an urn or other container. No viewing or visitation is involved, although a memorial service may be held, with or without the cremated remains present. The remains can be kept in the home, buried or placed in a crypt or niche in a cemetery, or scattered in a favorite spot.
Direct Burial
The deceased is buried shortly after death with no viewing or visitation or and/or formal funeral service.  A memorial service may be held at the graveside or at a later date at the funeral home or church.
Pre-Planning & Inflation Proof Financing
Pre-planning your own funeral can be beneficial in several ways.  First, it allows you to convey your wishes to your family, relieving them of the burden of trying to decide what kind of service that you would have wanted.  Also, if you choose to pre-pay for your funeral, you will have the peace of mind that all monies are deposited in a secure trust account and that your family will never receive a funeral bill (inflation proof financing).
Pre-planning is also advised when a person may be going into a nursing home or may be receiving government health care assistance in the future.  The staff at the Dagon Funeral Home are experts at setting up Pre-Paid Burial Accounts that will be in keeping with the rules & regulations of all government programs, thus allowing the person keep as many of his/her assets as allowed by law.
Pre-planning is easy and can be done at the Dagon Funeral Home or in the privacy of your own home.
DVD Memorial Tribute
Our DVD Memorial Tributes are truly a tribute to the life of the deceased.  By simply bringing your favorite photographs of your loved one, the Dagon Funeral Home will create a personalized DVD Keepsake that can be played through calling hours & funeral services on our two 42 inch flat screen TVs.  These DVDs will honor the life of the deceased and will be cherished for generations to come.
Settling the Estate
The staff of the Dagon Funeral Home is willing & able to help with all facets of estate settling.  We will be happy to assist with Social Security Benefits, Life Insurance Benefits, Veteran's Benefits, Railroad Retirement Benefits and can even be of assistance with real estate and other non-funeral needs.  We take pride in the fact that we go "above & beyond" for our clientele.
Bereavement Counseling
Everyone experiences and expresses grief in his or her own way. One can expect a wide range of emotion and behavior associated with grief.  Some might not only be sad, but also be angry.  It is not uncommon for a person to withdraw from their friends and family and feel helpless.
Grief counseling becomes necessary when a person is so disabled by their grief, overwhelmed by loss to the extent that their normal coping processes are disabled or shut down.  Grief counseling facilitates expression of emotion and thought about the loss, including sadness, anxiety, anger, loneliness, guilt, relief, isolation, confusion, or numbness.
Here at the Dagon Funeral Home, we recognize the fact that everyone is different and that some individuals could benefit from bereavement counseling while others simply don't require any outside help.  The staff of the Dagon Funeral Home is here to help when needed! We can & will be there to listen and we are able to recommend several bereavement agencies, therapists & clergy that may help the healing process begin.
Funeral Home Tours
Have you ever wondered what it would be like to take a "behind the scenes" look of a funeral home?  Or, have you ever been curious as to what an embalming room or casket selection room looks like?  How about the history of embalming and/or the embalming process itself?
Jim Dagon, owner & manager of the Dagon Funeral Home would be happy to provide a tour of the funeral home to any individual or group.  While here, Jim will answer any & all questions about the funeral profession.  Questions regarding embalming & how a body is prepared to questions about funeral costs will be answered.  Nothing is left to the imagination. Funeral home tours are not only informative, but very interesting as well.  Just give us a call to set up a time.