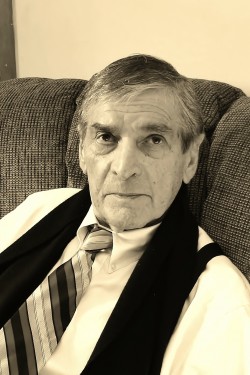 Donald Dominic "Don" Piano – (81) – with residences in both Hornell and Rochester, New York, died peacefully Saturday morning (June 23, 2012) at Rochester General Hospital following a long battle with pancreatic cancer.
Born on Central Park in Rochester on November 11, 1930, he was the son of (Giuseppe/Joseph) and Frances (D'Angelo) Piampiano (name later changed to Piano).
As a child, Don lived in Rochester and Buffalo.  His family moved to Hornell when he was about 10 years old.  One of his fondest early memories was attending the 1939 New York World's Fair.  He was a member of the Hornell High School Class of 1950. 
From 1951 – 1953, Don served his country as a member of the US Army Security Courier Corps, stationed at Rhein-Main Air Base in West Germany.  After returning home, Don enrolled at Alfred State College, where he earned his Associate's Degree in Applied Sciences / Sales and Distribution. After working in the Time Motion Study Department at Foster Wheeler in Dansville, Don started in sales at Liggett & Myers Tobacco Company, covering Steuben County, Canandaigua and Geneva.  Years later, he joined Pinkerton Tobacco, where he served for many years as a Broker Manager, covering much of New York and New England, ultimately retiring in 1992.
He was married in 1962 to the former Veronica Brown, who died September 24, 2001.  In 1966, Don moved his family to Rochester, where he purchased a new suburban home in Greece, raised four children and enjoyed his piece of the American Dream.  He resided in Rochester for 32 years, returning to Hornell in 1998.
Blessed with Hollywood looks, a quick wit, and enviable singing voice, Don would've been a strong addition to the Rat Pack.  He was also a skilled and self-taught carpenter who enjoyed wood finishing.  He loved spending his time tinkering and restoring his vintage car.  He also thoroughly enjoyed meeting his old friends for coffee.  Don was a member of Our Lady of the Valley Parish and a communicant of St. Ann's Church.  He was also a member of the G. Carducci Lodge (Sons of Italy). 
Surviving are his daughter, Maria (Gary) Bishop of Windermere, FL; 3 sons, Christopher (Anita) Piano of Santa Monica, CA, John Piano of Marina Del Rey, CA and Donald Piano, Jr. of Greece, NY; his sister, Josephine (Gerald) Fitzgerald of Hornell; his loving companion of 9 years, Mary Teresa Purtell of Hornell; 2 grandchildren, Rorke Bishop and Lachlan Bishop; many cousins, nieces and nephews.
Don's family will receive friends on Tuesday from 3:00 PM – 5:00 PM, and 7:00PM – 9:00PM at the Dagon Funeral Home, 38 Church St., Hornell, NY.  A Mass of Christian burial will be celebrated on Wednesday at 1 pm at St. Ann's Church in Hornell.  Burial will be in St. Mary's Cemetery with full military honors.
Don's family requests that memorial contributions in his name be made to the Pancreatic Cancer Action Network or the American Cancer Society.  Memorial forms will be available at the Dagon Funeral Home.
In honor of Don's service to his country during the Korean Conflict, the American Flag at the Dagon Funeral Home will be flown at half-staff.