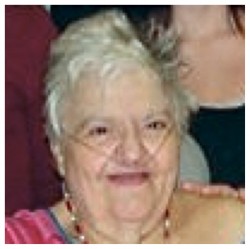 Lillian R. Roselli – 72 – of Rochester, formerly of Hornell died Sunday (July 8, 2012) at Rochester General Hospital.
Born in Hornell on August 7, 1939, she was the daughter of Dominic & Mary (Constantino) Espisito.
Lillian grew up in Canisteo and was a graduate of Canisteo High School (class of 1957).  She later attended St. James School of Nursing. 
While living in Hornell she had been a member of St. Ann's Parish.  She was employed for a few years in the late 1970's as "head cook" at Camp Rathbun.   In the mid 1980's she worked at the Head Start Program. Lillian has resided in Rochester since 1993.  For several years she was active at the Friends of Westfall Senior Center in Rochester.
She was preceded in death by her former husband, Charles  Roselli who died in 2003; and her sister, Mary "Dolly" Bartlett.
Surviving are 3 sons, Charles "Chuck" (Shannon) Roselli of Grand Forks, ND, Dominic (Stephanie) Roselli of Nashville, TN and Matthew Roselli of Rochester; 1 daughter, Mary (Clinton) Chiress of Orlando, FL; 2 sisters, Genevieve Iacovazzi of Orlando, FL and Mildred D'Apice of Arazona; 7 grandchildren; 1 great-granddaughter; several nieces & nephews.
At Mildred's request there will be no prior calling hours.  A Memorial Service will be held at 3:00 PM on Friday at the Dagon Funeral Home, 38 Church St., Hornell, NY with Deacon Robert McCormick officiating.