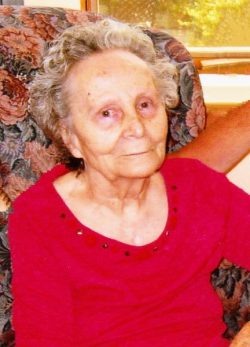 Hornell, New York
Elizabeth Jean "Betty" Fenton – (98) – formerly of 363 South Division St., Hornell, died Monday morning (March 20, 2023) at Elderwood at Hornell Nursing Facility where she had resided for the past 12 years.
A native & life resident of Hornell, she was born August 11, 1924, and was the daughter of Thomas & Evelyn (Feeney) Fenton.
Betty was a graduate of St. Ann's School and later graduated from Hornell High School (class of 1942). She was a member of Our Lady of the Valley Parish and had been a communicant of St. Ignatius Loyola Church and St. Ann's Church.
For over 40 years, Betty was employed as an operator for New York Telephone Company. She was a member of the "Pioneers" — a group of retired NY Telephone employees. Betty was a self-proclaimed "shop-a-holic" specializing on QVC (Home Shopping Network).
She was preceded in death by her brother, Jack Fenton and 2 sisters, Ruth Comstock and Catherine "Kate" Histed.
Surviving are several nieces & nephews.
The family of Elizabeth J. "Betty" Fenton will receive friends on Sunday from 5:00 PM until 7:00 PM at the Dagon Funeral Home, 38 Church St., Hornell, NY. A Mass of Christian Burial will be celebrated on Monday at 1:30 PM at St. Ann's Church with burial in St. Mary's Cemetery.
Betty's family request that memorial contributions in her name be made to St. Ann's Academy, 41 Genesee St., Hornell, NY 14843. Memorial forms will be available at the Dagon Funeral Home.
To leave an online condolence or share a memory of Betty, please visit our website at www.dagonfuneralhome.com