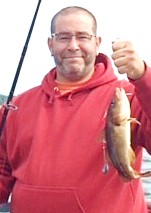 Christopher L. "Chris" Fenti – 53 – of 6390 County Route 68 (Crosby Creek Rd.), Hornell died Saturday morning (March 25, 2023) at Noyes Memorial Hospital in Dansville, following a long illness.
Born in Hornell on August 10, 1969, he was the son of Frank & Sue (Furlong) Fenti.
Chris grew up in Hornell and was a graduate of Hornell High School (class of 1987).  While in high school, he majored in welding in the BOCES Program.
Following high school graduation, Chris was employed as a certified welder at the Foster-Wheeler Corporation  in Dansville for several years and later worked as a welder for Alstom Transportation in Hornell.  For a time, Chris served as a welder for the Dresser-Rand Corporation in Wellsville, later transferring to the Dresser-Rand Olean Division.  Most recently he was employed as a welder for the Cutco Corporation in Olean, retiring in 2018 due to ill health.
Chris was a former member of the Hornell Association and the Hornell Moose Lodge.  He was a true outdoorsman who enjoyed camping (especially at Sun Valley Campsite), hunting (deer & turkey) and fishing (lakes, ponds & streams).  Chris enjoyed playing in the Men's Softball League in Kanona and the co-ed softball league at James Street Park. He also enjoyed coaching his daughters in the Maple City Softball League and Hornell Little League.  He loved TV shows featuring Alaska and especially loved watching Gold Rush along with going "treasure hunting" with his metal detector.
He was preceded in death by his parents, Frank and Sue Fenti.
Chris was married on July 5, 2012 to the former Sherry Mullen who survives.  Also surviving are 3 daughters, Deborah "Debbie" (Shawn) Hertzog of Hawley, PA, Hallie (Serina) Gonzalez-Fenti of Orlando, FL and Maria (Timothy Murphy) Fenti of Almond; 1 step-daughter, Sydney White of Hornell;1 brother, Frank (Nancy) Fenti of Livonia, 4 grandchildren, Katie Sue Hertzog, Katie Gonzalez-Fenti, Camden Murphy and Emersyn Murphy; several aunts, uncles, nieces & nephews.
At Chris' request there will be no calling hours.  Private services will be held at the convenience of the family with a "Celebration of Life" to be held at a later date.
Funeral arrangements are in care of the Dagon Funeral Home, 38 Church St., Hornell, NY.
Chris' family request that in lieu of flowers, memorial contributions in his name be made to the American Diabetes Association, PO Box 13067, Alexandria, VA   22312 or to a charity of the donor's choice.
To leave an online condolence or share a memory, visit www.dagonfuneralhome.com