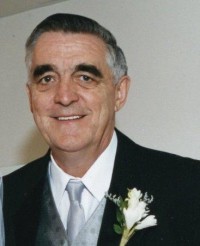 Harry Lorren Miller, formerly of Hornell and a longtime resident of Henrietta, died suddenly on January 27, 2017. Harry, affectionately known to family and friends as "Ace," was 81.
Born in Hornell, NY, Ace was blessed with both a curious mind and an outgoing disposition. He distinguished himself early on when, as a 12-year old, he assisted in the rescue of another youth from the icy waters of the Canisteo River; the Boy Scouts of America awarded him a Certificate of Heroism in recognition of his efforts and the events were covered in the local papers.
He was a graduate of Hornell High School, where he was elected Senior Class President of 1953. He later attended Alfred University, from which he received his B.S. in Ceramic Engineering (1959) and where he continued on for additional years of graduate study in the same discipline. He received his MBA from the Saunders College of Business at RIT in 1982.
Ace also enjoyed a distinguished military service record. An ROTC graduate, he saw active duty as an infantry officer in the United States Army Reserve from 1959 to 1961; he was honorably discharged in 1969 after obtaining the rank of Captain.
Ace's professional life was equally as notable and he earned the lasting respect of his colleagues. He spent nearly twenty years with the Pfaudler Company in Rochester as both a research and a production engineer; he then joined Thomas Electronics in Clyde, NY, and worked as a manufacturing engineer until his retirement in 2000.
In 1961, Ace wed to the former Joyce Capluzzi, also from Hornell, and in 1963 the couple settled in Henrietta and became proud parents to a son and a daughter. A dedicated family man, he was an enthusiastic supporter of his children's academic and athletic endeavors through their college years and could often be found on the sidelines of a football field or in the stands at a volleyball game, cheering loudly for the home teams.
His love of woodworking created many cherished pieces of furniture that his family and friends will enjoy for years to come. An avid and lifelong sportsman himself, Ace especially enjoyed fishing and hunting and spent many a day in the remote woods near his cabin in Birdsall, NY, in pursuit of a wiley rafter of turkeys.
Always quick with a joke or a kind word and ready to lend a hand, his generosity of spirit will be missed by all who knew him.
He was preceded in death by his adored wife of 36 years, Joyce; his parents, Verna (nee Morse) and Paul Pascal Miller; his brothers Gregory, Bruce, and Leo; his sister-in-law Theresa Capluzzi; his brother-in-law James Capluzzi; and by his beloved companion of recent years, Judy French of Henrietta, NY.
Harry Miller is survived by his son, Scott (Danielle) and grandson, Prescott, of Hinsdale, IL; his daughter, Deanna, and his son-in-law Daniel Hayden of Victor, NY; his brother, Brian (Shirley) of Hornell, NY; his sister-in-law Bettelou (Bruce) of Corning, NY; his brother-in-law John Capluzzi (Kathy) of Hornell, NY; and by many nieces, nephews, and friends.
At Harry's request there will be no calling hours. A private graveside service will be held at the convenience of the family.
Local funeral arrangements are in care of the Dagon Funeral Home, 38 Church St., Hornell, NY
Harry's family request that in lieu of flowers, memorial contributions in his name be made to either Lollypop Farm, 99 Victor Road, Fairport, NY 14450 or Camp Good Days & Special Times, 1332 Pittsford-Mendon Road, Mendon, NY 14506.