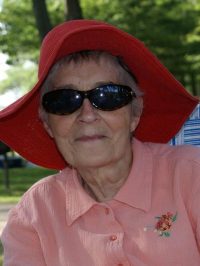 Doris M. Beckhorn a resident of Bethany Villages in Horseheads, formerly of Elmira went home to be with her Lord and Savior on Saturday December 23th, 2017.
Born September 9, 1938 in Fabius, NY, she was the daughter of Melville & Doris (Eades) Lang.
Doris was married for 47 years to William J. Beckhorn who died December 22, 2007.
She is survived by her children; Gary Beckhorn (Marion), Wayne Beckhorn, Alan Beckhorn, Gail Beckhorn (Marc), Eileen Best (Tracy), Elaine Hernandez (Rafael), Thomas Beckhorn, Tammy Bennett (Thomas), Stacey Forsyth (Kevin) and many grandchildren, great grandchildren, siblings, nieces & nephews.
Please join us for a celebration of her life on Saturday, December 30 at 1:00 pm at Living Word Evangelical Church, 1119 Lake St, Elmira, N.Y.
Funeral arrangements are in care of the Dagon Funeral Home, 38 Church St., Hornell, NY.