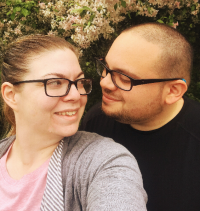 Avoca, NY
Deborah M. "Deb" Morales – (29) – of 31 Grant St., Avoca, died Thursday December 20th at 5:35 pm following a hard fight with cancer.
Born in Hornell on November 14, 1989, she was the daughter of Rev. George "Bill" & Kathleen (Arnold) McFeaters.
Deb grew up in Avoca and was a graduate of Avoca Central School (class of 2007). She later attended Davis Bible College in Binghamton, NY. She had been a lifelong member of the First Baptist Church of Avoca where her father serves as Pastor.
Deb was married on July 31st 2010 to Matthew "Matt" Morales in her home church in Avoca. Deb and Matt have spent the last 6 years traveling the country and photographing weddings. Deb's passion for capturing a couples love for each other was evident from the beginning of her photography business adventure. With immense talent and love she has made wedding days special for over 200 couples.
Deb and Matt have had the privilege to travel to many states and enjoy cuisines from all across the USA; some of her favorites including Maine Lobster rolls and New Orleans beignets.
Most importantly Deb's love for our Lord Jesus Christ shone brightest. Deb has spent many years helping teach kids at Vacation Bible school before and after marriage as well as serving at countless church events and outreaches. One of her favorite events in recent time was helping at the church block party.   A devoted Baptist Deb has always trusted in God and even through this extreme sickness God has always received the Glory during the good and especially the bad.
In addition to her husband, Matthew, Deb is survived by her parents, Rev. George "Bill" & Kathleen McFeaters; 2 brothers, James McFeaters of Morganton, NC and Isaac McFeaters of Avoca; paternal grandparents, George & Carolyn McFeaters of Gettysburg, PA; maternal grandfather, Herb Arnold of Montour Falls, NY; several aunts, uncles & cousins.
Calling hours will be from 12:30-2:00 p.m. with a Memorial service at 2:00 p.m. on Saturday, December 29th at the First Baptist Church of Avoca.
Funeral arrangements are in care of the Dagon Funeral Home, 38 Church St., Hornell, NY.
Deb's husband requests that in lieu of flowers, memorial contributions in her name be made to the First Baptist Church of Avoca, 1 Church St., Avoca, NY 14809.