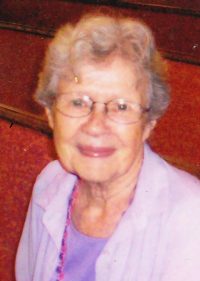 Ruth Marie Kurtz – 92 – of 105 Geneva St., Bath, NY, formerly of Hammondsport, NY died Tuesday evening (August 27, 2019) at Ira Davenport Hospital in Bath following a brief illness.
Born I n Magadore, OH on June 13, 1927, she was the daughter of Leroy & Vera (Hoskins) Walters.
Ruth grew up in Berlin Center, OH where she attended Berlin Center High School through her junior year.  Years later she returned to school and received her high school diploma in 1960.
Residing in the Bath/Hammondsport area for over 30 years, Ruth was a member of the Bethel Assembly of God Church where she and her husband were active in the pre-school program.  She had a deep love of her family and especially adored her grandchildren & great-grandchildren.
Ruth was married to James W. Kurtz who died July 10, 2015.  She was also preceded in death by her son, Ron Kurtz; along with 2 sisters, Doris & Wilma.
Surviving are 2 sons, Danny (Mary) Kurtz of Lake Havasu City, AZ and David (Karen) Kurtz of Medford, OR; 7 grandchildren; 13 great-grandchildren; nieces & nephews.
A Memorial Service will be held at the Bethel Assembly of God Church in Bath, NY at a date & time to be announced.  Burial will be in McDowell Cemetery, Wayne, NY.
Funeral arrangements are in care of the Dagon Funeral Home, 38 Church St., Hornell, NY. 
Ruth's  family request that memorial contributions in her name be made to a charity of the donor's choice.