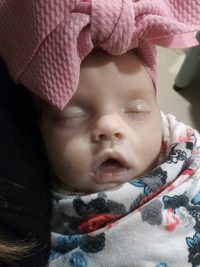 Karoline J. "Kara" Carey, infant daughter of Tyler & Heather (Tobias) Carey of 6205 North Main St. Ext., Hornell, was embraced by Angels and taken to Heaven to spend eternity with Jesus Thursday evening (December 19, 2019) at Golisano Children's Hospital in Rochester, NY.
Although Kara was only on this earth for 20 days, she was loved and cherished by her entire family.  Following complications from her birth, she proved to be quite a "fighter" and won the hearts of her entire family along with all of the doctors & nurses at the Golisano Children's Hospital.  She will continue to be loved and will live in the hearts of  her family and all those that she touched!
Welcoming her at the "Gates of Heaven" are her maternal great-grandmother, Anna Donnelly; her paternal-grandfather, Rex Carey; her paternal great-grandfather, Glenn Carey; her paternal great-grandmother, Barbara Bliss.
Kara was loved and will be sadly missed by her parents, Tyler & Heather Carey; 2 brothers, Brently & Parker; maternal great-grandparents, Ralph Donnelly and Bo & Anne Webb; paternal great-grandparents, Betty Carey and Clyde & Barb Bliss; maternal grandparents, Anthony & Cheryl Webb; paternal grandmother, Kim Bliss; as well as many aunts, uncles & cousins.
A Memorial Service will be held on Saturday (December 28, 2019) at 2:00 PM at the Dagon Funeral Home, 38 Church St., Hornell, NY on with Deacon Robert McCormick officiating.
The Carey family would like to thank all of the doctors, nurses & staff at the Golisano's Children's Hospital for all of the care, love and comfort shown to Kara and for the kindness and support shown to the entire Carey family.
Kara's family request that in lieu of flowers, memorial contributions in her name be made to the Neonatal Intensive Care Unit, Golisano Children's Hospital, 601 Elmwood Ave., PO Box 651, Rochester, NY 14642.