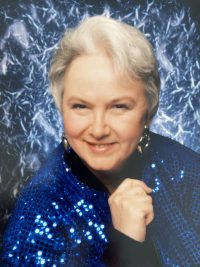 Sally Ann DeConinck – 79 – a resident of Elderwood at Hornell Nursing Facility, formerly of Spencerport, NY died Sunday at St. James Mercy Hospital following a long illness.
Born in North Hornell on October 3, 1940, she was the daughter of Volney & Etta (HerrNeckar) Waight.
Sally grew up in Greenwood and moved to Hornell in1956 and was a graduate of Hornell High School class of 1958.  Years later, while in her 30's, she decided to continue her education and ultimately received her Associate Degree in business, at Monroe Community College (MCC) of Rochester.
A resident of the Rochester area for most of her adult life, Sally lived in the Town of Greece for about 18 years and in Spencerport, NY for nearly 31 years.  She had been employed for over 20 years at General Motors (Rochester Products), working on the assembly line and later in the office.
Sally had been a member of Unity church of Greater Rochester.  She enjoyed knitting, crocheting, sewing, embroidery, counted cross stitch, needle point, gardening, making jewelry, reading and playing classical guitar. She had an artistic soul and supported the arts. Sally was a spiritualist with a gift as a healer and medium. She was a generous person who gave to family, friends, and those in need, never asking for anything in return. She was very loving, and could find humor in everyday life, she lifted us up so we could fly.
She was preceded in death by her son, Bradley DeConinck Mroczka who died in February, 2020.  She was also pre-deceased by several brothers & sisters.
Surviving are 2 sisters, Vivian Treckman of Florida and Kay Leposa of Canisteo, NY; 1 brother, Curt Waight of Georgia; several nieces & nephews.
At Sally's request there will be no calling hours.  Private services will be held at the convenience of the family with a "Celebration of Life" to be held at a later date.
Funeral arrangements are in care of the Dagon Funeral Home, 38 Church St., Hornell, NY. 
Sally's family request that in lieu of flowers, memorial contributions in her name be made to Lollypop Farm, Humane Society of Greater Rochester, 99 Victor Road, Fairport, NY 14450. https://www.lollypop.org/get-involved/give-today/