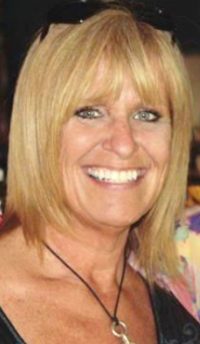 Nancy Lee Mallory – 58 – of 37 Main Street in Almond, died tragically in a fire at her home on Thursday, August 13th, 2020.
Born in Hornell on December 22nd, 1961, she was the daughter of Wayne & Marilyn "Myrt" (Recktenwald) Stuart.
Nancy grew up in Hornell & Thacherville and was a graduate of Alfred-Almond Central School, class of 1980.
Nancy's smile and infectious laugh could brighten even the darkest days. She was always ready to lend a helping hand to anyone who needed it. She had a deep love for her friends and her family and enjoyed spending time with her husband, children, and grandchildren. She was an avid Buffalo Bills, New York Mets, Bob Seger, and Dave Matthews fan. She was well-known in Almond for her beautiful flowers and hanging plants on the front porch of her home. Although her house was destroyed by the fire, her hanging plants miraculously survived. Nancy also had a deep affection for animals, especially her canine companions, Rex & Ruby and her beloved cat, Bella. She will always be remembered by everyone who loves her as one of the most giving and selfless people ever.
Nancy was preceded in death by her parents, Wayne & Myrt; her daughter, Jennifer Feenaughty; and her sister-in-law, Pamela Stuart.
She was married on May 5, 2006 to Harrison Clair Mallory who survives. Also surviving are her son, John (Allison) Feenaughty of Arkport; her step-daughters, Ashley (Steve) Wanamaker of Brighton, NY and Lindsay (Dallas Boylan) Mallory of Ashland, OR; 3 brothers, Richard "Dick" Stuart of Almond, Thomas Stuart of Almond and Robert Stuart of Almond; her grandchildren, Max Feenaughty, Isla Feenaughty, Natalie Wanamaker and Samuel Wanamaker; several cousins, nieces & nephews.
The family of Nancy Lee Mallory will receive friends on Monday from 4:00 PM – 7:00 PM at the Dagon Funeral Home, 38 Church St., Hornell, NY, where family & friends will be required to wear masks and maintain social distancing. Private services will be held at the convenience of the family.
The Memorial Service for Nancy will be streamed via Facebook Live and can be viewed on the Dagon Funeral Home Facebook page on Tuesday at 11:00 AM visiting www.facebook.com/dagonfuneralhome. The video will remain available for viewing on our Facebook page for 30 days. 
Nancy's family request that in lieu of flowers, memorial contributions in her name be made to the Hornell Humane Society, 7649 Industrial Park Road, Hornell, NY 14843. Memorial forms will be available at the Dagon Funeral Home.