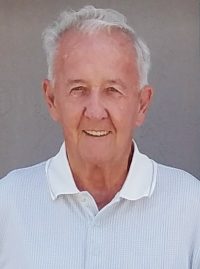 Joseph Patrick "Joe" McHale – 88 – formerly of Hornell,  passed away in Middleburg, Florida following a long illness.
Born in Hornell on February 14, 1932, he was the son of Michael and Twila (Meyers) McHale.
Joe grew up in Hornell and was a graduate of Hornell High School (class of 1949).  He served in the U.S Navy from 1951-1955 aboard the USS Franklin Delano Roosevelt. Following his navy years, he graduated from Compton Junior College in California receiving his AAS degree.
Returning to Hornell, he worked for Owens publishing in Dansville, managed the Lone Gable Bar/Restaurant, and retired from the USPS (as a rural route carrier).
Joe was an avid golfer, having played all over the world while in the navy.  He was a member of the (old) Hornell Country Club and later the Twin Hickory Golf Club. He and his wife, Julie, were snowbirds for years, enjoying golf all over Florida.  Joe was a real handyman who was always ready to fix or repair anything.  He also loved woodworking, and all of his family have examples of his work: Pendulum clocks, footstools, bookshelves, and the like.  So many memories!!!
Throughout the years, Joe had been a member of the Hornell Elks Lodge and later the Green Cove Springs Elks Lodge in Green Cove, FL; the Hornell American Legion, the Hornell Knights of Columbus and the Hornell AMVETS.
In addition to his parents Joe was preceded in death by three brothers, Tom (Jo) McHale, Ray (Mary Lou) McHale and Steve Mchale; his sister-in-law, Anne Williams.
He was married on September 19, 1970 to the former Julie Tristen who survives.  Also surviving are his daughters Kiera McHale and Erin McHale (Jerry) Smith of Middleburg, Fl; 4 grandchildren, Christian Torres, Adriana Torres, Kaleb Smith and Aliyah Smith; his brother Jim (Lucille) McHale of Tafton, PA; sister-in-law Leona Purcell of Orange Park Florida; his brothers-in-law Bill Shane of Oklahoma and Brad Williams of Bath NY; and sister- in-law Linda McHale; along with many nieces and nephews.
Joe was dearly loved and is sorely missed.
The family of Joe McHale will receive friends on Saturday, June 12, 2021 from 2:00 PM – 3:00 PM at the Dagon Funeral Home, 38 Church St., Hornell, NY.   A Memorial Service with Military Honors will be held at the conclusion of calling hours at 3:00 PM with Deacon Robert McCormick officiating.
The Memorial Service for Joseph McHale will be streamed live and can be viewed on the Dagon Funeral Home Facebook page on Saturday at 3:00 PM by visiting www.facebook.com/dagonfuneralhome.  The video will remain available for viewing on our Facebook page for 30 days.
Family & friends are invited to attend a reception at The Main Place, 251 Main St., Hornell immediately following the Memorial Service (4:00 PM) to share stories & memories of Joe.
Final interment will be held at the Bath National Cemetery, Bath, NY.
In honor of Joe's service to his country as a member of the US Navy, the American Flag at the Dagon Funeral Home will be flown at half-staff.
Joe's family request that donations in his memory be made to the Alzheimer's Association, 435 East Henrietta Road, Rochester, NY  14620.