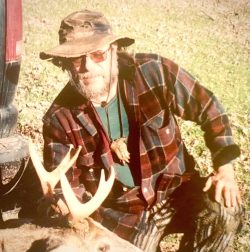 Andover, NY  /  Alfred, NY
I watch the woods
could it be,
or is it the woods
just watching me
                                                —  Gary C. Lloyd
Gary C. Lloyd – 79 – of 4992 County Road #12, Andover (Town of Alfred) died early Wednesday morning (May 11, 2022) at Arnot Ogden Hospital in Elmira, following a long illness.
Gary was born in Hornell on October 9, 1942, the son of Charles (Mahoney) & Eva (Saxton) Lloyd. Gary was a naturalist since he was a small boy.  He roamed the streams, forests, and fields of his grandparents' land to observe and interact with all manner of winged, furred, scaled, and web-footed creatures.  Gary learned to hunt, fish, and trap as a child, which required him to be still and blend in with his natural surroundings, listening and watching.
Gary grew up in Hornell, surrounded by cadavers, as his father was an undertaker and operated a funeral home.  He was fascinated by chemical reactions, as he played with his chemistry set in a hidden chamber of the basement of his parents' funeral home.
Graduating from Hornell High School in 1960, Gary was a member of the HHS wrestling team, where in 1958 he placed 2nd in the NYSPHSAA Section V Class A Wrestling Quarter Finals (Allegany–Steuben County).  He also played soccer for Hornell, and was awarded MVP for his position as the "center forward."  Once, when driving down the streets of Hornell with his best friend Dick Gray, he shouted to a pretty brunette he really liked, "Remember Gary Lloyd!"  He notoriously drove a hearse around town, often to pick up this same brunette for a date – his favorite lady, Mary Jane Girondo, whom he married in 1964.
Following high school graduation, he attended St. Bonaventure University for two years and later transferred to Utica College of Syracuse University where he received his Bachelor's degree in Biology in 1965.  He received his Master's degree in Education from SUNY Geneseo in 1978.
Gary stumbled into teaching during the teacher shortage of the 1960s, and soon realized that it was one of his many callings in life.  He went on to teach Biology and AP Biology at Alfred Almond Central School for 30+ years.  Often described by his former students as a "legend," Gary ("Mr. Lloyd") was known for his wild stories about "wee beasties," his unusual attire, and the many pickled animal parts he kept in jars around his classroom.  One such creature, a pernicious roundworm, was said to emerge from a woman's nose as she slept.  Mr. Lloyd dressed all in camouflage and wore a turtle claw around his neck, which frequently sparked a conversation about his adventures defeating the turtle when it began killing "his" baby geese.  Mr. Lloyd's animated storytelling, unconventional teaching approaches, and nontraditional forms of wisdom and academic encouragement inspired many of his students to pursue studies in natural science, or to chase — with discipline and stubborn perseverance — whatever life goals they wished for.  During his teaching years, he served as a wrestling and soccer coach. In 1970 the students dedicated the A-A yearbook to him.  He retired in 1998, just after his daughter graduated from Alfred-Almond.
Gary was a master fisherman, hunter, and trapper who enjoyed teaching his skills to his children and grandchildren. He was careful and observant, immersing himself in a local ecosystem in order to truly understand and commune with the wildlife he stalked.  He taught his son Tim the hunting and trapping ways of the woods from an early age.  Gary took Tim and his friend Paul Spencer to "Turkey Calling" seminars in the mid 70's when turkey hunting was really taking off in the area. He hunted turkey and deer for decades with Tim, and also hunted raccoons with Tim and his old beloved Blue Tick Coon Hound, "Jack," for many years. They trapped fox, muskrat, mink, and raccoon for many years together.
He fished local ponds as well as the Finger Lakes, pulling many "all-nighters" fishing for trout with the old propane lights hanging over the water to bring up the sawbellies. He went deep-sea fishing off the Outer Banks in 1974, and caught a magnificent 268 pound blue marlin. When visiting his sister Sheila in North Carolina, he went deep-sea fishing again with his family in 1996, catching tuna, mahi mahi, king mackerel, and marlin. After a grueling 57-hour course and test, Gary was awarded his marine captain's license in 2001.  He won many fishing and hunting accolades over the years, including the the grand prize at the 9th annual National Lake Trout Derby on Seneca Lake in 1972 and several tournaments in the late 1990s including a tournament on Keuka Lake with his son Tim.  His parents lived on Conesus Lake for several years, where he fished with his father and his son heavily for northern pike, tiger muskie, and did ice fishing as well.  He fished Canandaigua lake in the 1970s, Keuka Lake extensively in the late 1990s, but always said that his favorite finger lake was Hemlock Lake because it is so preserved and wild.
Gary also became an activist leader in the late 1980s when New York State tried to install a nuclear waste facility in Allegany County.  In 1989, Gary co-founded ACNAG (Allegany County Non-Violent Action Group) and became a memorable player in the "anti-dump" movement by advocating for civil disobedience as the best way to organize against and successfully resist the state mandate. Gary is a central character in Thomas V. Peterson's 2002 nonfiction book Linked Arms: A Rural Community Resists Nuclear Waste, which describes how rural, ordinary people in Allegany County worked tirelessly together to prevent the nuclear waste facility. ACNAG members wore red armbands and stood on the front lines, indicating that they were willing to be arrested.  Gary was arrested on May 31, 1989, and spoke on the news several times about why he felt so strongly about the unacceptable nature of a nuclear waste facility in Allegany County. When gifting a copy of Peterson's book to his parents, Gary wrote, "we accomplished what was said to be the impossible. […We] defeated a fifty million dollar state-mandated project without the use of violence. Let our actions of civil disobedience help set a hallmark precedent for what people can do for their county and country."
A spirited entrepreneur, Gary channeled his love for hunting into his business, Deerskin Products, which he started in 1987.  People all over western New York have bought deerskin gloves from Gary over the years, and though the business is now gone, the durability of the gloves ensures that many will continue to enjoy his gloves for years to come.
Gary is survived by his wife, Mary Jane (Girondo) Lloyd; his son, Timothy Lloyd of Alfred Station; his daughter, Hilarie (David Walker) Lloyd of Pittsford; his sister, Sheila (Randy Smith) Lloyd of Bannon, OR; and 5 grandchildren, Amanda Lloyd, Annie Lloyd, Benjamin Lloyd, Alistar Lloyd-Walker and Aurora Lloyd-Walker. In 1997, Gary completed his alcohol rehabilitation at Chit Chat Westfield, and was sober for 3 years afterward.  In 2014, Gary and Mary Jane celebrated their 50th wedding anniversary with a dinner party at The Main Place in Hornell.
Gary touched the lives of many people over the course of his life as a teacher, friend, father, brother, son, and grandfather.  He genuinely cared about people and his community.  He will be greatly missed by many who knew him.  Think of "Mr. Lloyd" when you encounter a creature. Think of Gary when you "follow the track of the white tail," and watch closely and listen as you explore the tangle of life in a field, forest, or pond.  Pay attention to toads, as Gary urged us to do in one of his most memorable poems, "Ode to a Toad."
"On a dark and misty night,
when you're walking all about,
keep your eyes on the ground,
because all the toads are out.
…
When you fondle little toads,
You could never get a wart,
So just jostle them gently,
for it's nature they support."
(from "Ode to a Toad,"
Gary C. Lloyd, 1992)
At Gary's request, there will be no calling hours or religious services.  Instead, a "Celebration of Life" will be held in late July, 2022.  Venison and wild leeks will be on the menu.
Funeral arrangements are in care of the Dagon Funeral Home, 38 Church St., Hornell, NY.
In lieu of flowers, memorial contributions in Gary Lloyd's name can be made to A.E. Crandall Hook & Ladder Co.'s volunteer fire department and Emergency Medical Services.  Tax-free donations help these volunteers purchase the equipment and supplies they need to provide fire and EMS services at no cost to their patients or their insurance companies.  (4 Main Street, Box 582, Alfred, NY 14802, 607-587-8880)
To leave an online condolence or share a memory, visit www.dagonfuneralhome.com