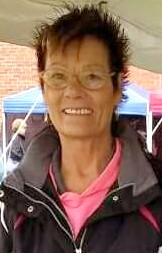 Diane Lee Chick – 67 – of 1190 County Route 66, Hornell, died unexpectedly on Thursday (May 12, 2022) at her home.
Born in Scranton, PA on September 26, 1954, she was the daughter of Floyd & Marie (Judson Barber) VanHouter and the step-daughter of James Barber.
Diane grew up in Geneva, NY and was a graduate of Geneva High School (class of 1973).  She later received her Associate's Degree in Nursing from Cayuga Community College becoming a Licensed Registered Nurse.
While living in Hannibal, NY, she had been employed at the Pontiac Nursing Home in Oswego and also the Frank C. Meyer Health Center in Oswego.
A resident of the Hornell area for the past 25 years, Diane was employed as a registered nurse at the Bath VA Medical Center in Bath and also worked for Allegany County as a traveling nurse.
In her younger years, Diane enjoyed ceramics and making pottery and in recent years was an avid NASCAR fan, her favorite drivers being Jeff Gordon, Jimmie Johnson, Chase Elliot, and Joey Logano.
In addition to her parents and step-father, she was preceded in death by her brothers, Jim VanHouter, Floyd VanHouter, Ronnie Wheeler and her sister Shelia Wheeler; her second husband, Robert "Bob" Barber who died in 1996.
Surviving are her son, Jason Stevenson of Hamersville, OH; her daughter, Jamie Stevenson of Cattaraugus, NY; her partner, Mark Baird of Conesus, NY; 2 former husbands, George Stevenson and Charlie Chick; her brother, Bruce (Margaret) Wheeler of Anderson, SC; her sister, Karen Jones of Easley, SC; several nieces & nephews.
At Diane's request there will be no calling hours.  Private services & a "Celebration of Life" will be held at a later date.  Final interment will be in the Bath National Cemetery, Bath, NY.
Funeral arrangements are in care of the Dagon Funeral Home, 38 Church St., Hornell, NY.
Diane's family request that memorial contributions in her name be made to a charity of the donor's choice.
To leave an online condolence or share a memory, visit www.dagonfuneralhome.com