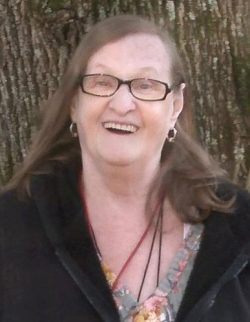 Eleanor M. Carbonell – 69 – of 71 Church St. Court, Hornell, died early Monday morning (May 9, 2022) at Strong Memorial Hospital in Rochester, following a long illness.
Born in Brockport, NY on April 23, 1953, she was the daughter of Owen & Loretta (Glick) Donohue.
Eleanor grew up in Brockport and was employed as a Lifeguard during her teen years. She moved to the Rochester area in the mid 1970s and has lived in the Hornell area since 1996.
A proud "Stay At Home" mom for most of her adult life, Eleanor enjoyed raising her children. Her greatest joy came from her children. She took great pleasure in being a mom. In her younger years she loved swimming. She loved to go to Charlotte Beach. She also loved to draw. She would doodle on paper while talking on the phone and it would be a drawing when she was done with it. She enjoyed taking long walks.  She had a deep appreciation for nature and the great outdoors and loved being outside on a beautiful day and smelling the fresh air. When she could no longer go for walks she had a picture of trees put on the wall so she could see it while sitting on the couch. For the most part that became her outdoors.
Eleanor loved watching TV and also loved spending time in the kitchen cooking her favorite cuisines such as Stuffed Peppers, Chili, Spanish Rice and Green Bean Casserole in a Crockpot. She loved her daughter Rachel's Roasted Potatoes, Acini De Pepe fruit salad, Tri Pasta Salad, Tuna Salad, Chili, Goulash and Crustless Pumpkin Pie in a Crockpot.  She loved her daughter Prestina's Mac and Cheese, Chicken Alfredo and Roasted Cauliflower.  Some of her favorite foods were Egg Salad Sandwiches, Lays Potato Chips Burger King Whoppers, Popeye's Mashed Potatoes and Gravy, Philly Cheese Steaks, JC'S Café Steak Bombers, Billy Schu's Goulash, Giovanni's Pizza, Italian Villas Stuffed Peppers, Wendy's Vanilla Frosty and Tom Wahl's and Five Guys Burgers. Her favorite Ice Cream was Vanilla.
Eleanor's favorite color was Sage Green. She loved to go to the Rochester zoo.  Her favorite animal was the Elephant. Her favorite song was Bobby McFerrin's Don't Worry Be Happy.
She was a proud and loyal member of the Christian Congregation of Jehovah's Witnesses of Canisteo.
Eleanor was preceded in death by three former husbands, William Gouger, Marble Spikes and Preston Rhodes; as well as 14 siblings.
Surviving are her husband, Joseph Carbonell of Buffalo; 6 children, Rachel Gouger of Canisteo, Lea Spikes of Rochester, Marble (Deidra Good) Spikes of Rochester, Prestina (Lawrence Paul Thomas) Rhodes of Rochester, Adam Carbonell of Hornell and Angel Carbonell of Hornell; 1 brother, Roger Donohue of Albion and 2 sisters, Pat Calhoun of Missouri and Mary Stamp of Lockport, 5 grandchildren; 2 great-grandsons; 3 step children; several step-grandchildren; many nieces & nephews.
At Eleanor's request there will be no calling hours.  Private services will be held at the convenience of the family.
Funeral arrangements are in care of the Dagon Funeral Home, 38 Church St., Hornell, NY.
Eleanor's family request that in lieu of flowers, memorial contributions be made as donations to Jehovah's Witnesses World Wide Work at JW.ORG.
To leave an online condolence or share a memory, visit www.dagonfuneralhome.com