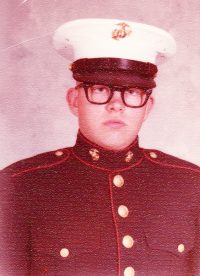 Michael Anthony Tanner – 61 – of 1246 Maple Court, Hornell, (Town of Hornellsville) died unexpectedly Friday evening (May 3, 2019) at his home.
Born in Batavia, NY on June 26, 1957, he was the son of William & LaRue (Paul) Tanner.
Michael grew up in Oakfield, NY and was a graduate of Oakfield-Alabama High School (class of 1975).  He was a Veteran of the United States Marine Corp, serving his country from Dec, 13, 1976 – Dec. 12, 1980 and again from Nov. 26, 1982 – Nov. 25, 1986.  He was honorably discharged with the rank of Sergeant.
Following his honorable discharge from the US Marines, Michael resided for several years in Mt. Morris, NY and was employed at Sabin Metals in Scottsville, NY.  He later lived in Bath, NY and Avoca, NY and worked at the former Philips Lighting.  He has resided in Hornell since 2010.
Michael had been a member of Grace Bible Baptist Church in Bath.  He was an avid New York Yankee fan, a Buffalo Bills fan and also loved rooting for the Buffalo Sabres.  He also enjoyed collecting sports memorabilia such as sports cards and autographs.
He was preceded in death by his father, William (died Jan. 14, 2014); his mother, LaRue (died Nov. 28, 2012); 2 sisters, Regina Tanner (died July 20, 2018) and Teresa Tanner (died Sept. 9, 2018).
Surviving are 2 brothers, Milton (Deborah) Tanner of Bath, NY and Edward Tanner of Oakfield, NY; 1 nephew, Daniel Eaton of South Corning, NY.
At Michael's request there will be no calling hours.  A Memorial Service will be held on Saturday (May 11, 2019) at 3:00 PM at the Grace Bible Baptist Church in Bath with Rev Garrett Hall officiating.  Burial will be in the Bath National Cemetery, Bath, NY.
Funeral arrangements are in care of the Dagon Funeral Home, 38 Church St., Hornell, NY. 
Michael's family request that in lieu of flowers, memorial contributions in his name be made to either the American Heart Association, PO Box 3049, Syracuse, NY  13220 or to the American Cancer Society. 13 Beech St., Johnson City, NY 13790.