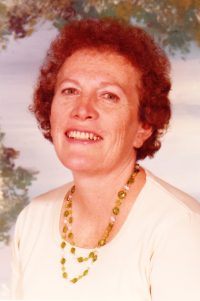 Joan E. Youngdale – 91 – of 66 Platt St., Hornell, passed away peacefully at her home, following a lengthy illness.
Born in Utica, NY on September 24, 1928, she was the daughter of William & Dorothy (Colmus) Carroll.
Joan grew up in Utica where she attended Blessed Sacrament Catholic School and was a graduate of Utica Free Academy High School with High Honors in 1943.   Following High School graduation, she was employed for several years at a New York State Dairy Lab, testing milk and milk products from farms and milk processing companies.   She held a NYS certification and license as a Dairy Lab Technician.
For over 10 years, Joan worked as an insurance code inspector for Utica Mutual Insurance Company.  After getting married she accepted a position from 1972 to 1979 as a reading aide for special needs students attending the Utica School System.  After moving to Hornell in the summer of 1979, she began working for the  Hornell City School System as a library clerk at Columbian School and then for Hornell High School retiring in 2001 having provided 22 years of service.  Joan enjoyed talking with children that she had directly worked with as kindergarteners now seeing them as high school students.
Joan was a member of Our Lady of the Valley Parish and a communicant of St. Ann's Church.  While living in Utica, she was a member of Gamma Chi Sorority of Utica, an organization which gave nursing scholarships and other opportunities to well deserving, underprivileged young ladies in the 1950's.
Joan enjoyed many outdoor activities throughout the years.  She especially enjoyed camping.  Whether in a tent or a tent camper she didn't care.  She loved the Adirondacks and New York State Parks camping in most but finally settling on Sacandaga Lake at Moffitt's Beach as her favorite camping spot.  In her earlier years you would find Joan on a Saturday night at one of the many square or round dances in the Utica area.  She also loved being at hockey games where you could "yell as loud as you wanted to and no one around you cared".  She regularly visited dude ranches in the Adirondacks horseback riding, hiking and swimming.  She traveled the United States extensively in her youth, traveling with the Young Women's Christian Association.  Several favorite trips were Yosemite, Grand Canyon, San Francisco, Boston, Washington D.C., and New York City.  Joan was an avid reader who preferred non-fiction historical books.   She enjoyed gardening, picnicking and held a special fondness for really good food.
Joan was married to her one and only love, Charles "Charlie" Youngdale on January 23, 1960 at Our Lady of Lourdes in Utica, N.Y.  Charlie died March 9, 2005.  She was also preceded in death by her sister Norma Clarke, her brother William "Bill" Carroll, Jr.
Surviving are 2 daughters, Joanne (Glenn) Schrager of Oakland Park, FL and Carroll Clark of Hornell; her son-in-law, Gary Clark of West Almond; 1 sister, Nancy Burns of Utica, NY; several nieces & nephews.
The family of Joan E. Youngdale will receive friends on Wednesday from 4:00 PM – 6:00 PM at the Dagon Funeral Home, 38 Church St., Hornell, NY.  A Memorial Service will be celebrated at the conclusion of calling hours at 6:00 p.m. Deacon Robert McCormick officiating.  Final interment in Woodlawn Cemetery, Canisteo, NY.
Joan's family request that in lieu of flowers, memorial contributions in her name be made to St. Jude Children's Hospital, PO Box 1000 – Dept. 300, Memphis, TN   38148.  Memorial forms will be available at the Dagon Funeral Home.