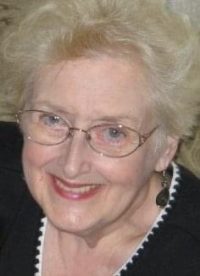 Marilyn M. Grillo – 90 – of 49 John St., Hornell, died early Thursday morning (May 14, 2020) at Elderwood of Hornell Nursing Facility, following a brief illness.
Born in Hornell on May 8, 1930, she was the daughter of Frank & Camilla (Angel) McClary.
Marilyn grew up in Hornell and was a graduate of Hornell High School (class of 1949).  While in high school, she began working, in many capacities, at the former Tuttle & Rockwell Store in Hornell, a job that she held from 1946-1950.  She later was employed for several years as assistant manager and buyer at the former Cameo Shop in Hornell.
In the 1970's, Marilyn acquired her Real Estate License and for several years served as a real estate agent for Winter's Real Estate in Hornell.  She later received her Broker's License and began working for Real Inc. in Hornell.  She retired in 2017 at the tender age of 87.
Marilyn was a member of Our Lady of the Valley Parish and a communicant of St. Ann's Church.  She was also a member of the Ladies of Columbus, St. James Auxiliary, G. Carducci Lodge (Son's of Italy) and the Hornell Alumni Association.
Having a deep love & affection for her family and many friends, Marilyn loved entertaining at her home and always enjoyed the company of others. One of her favorite times of year was Halloween inviting all the neighborhood children into her decorated home to give them candy, cider and doughnuts. She also enjoyed sketching pictures on the hill at Kanakadea Park.   She will be remembered as a genuine, giving, loving, compassionate woman who always had a smile on her face and a twinkle in her eye.  She will be sadly missed by everyone who had the pleasure of knowing her!!
Marilyn was married on January 13, 1951 to Joseph "Joe" Grillo who died July 22, 2003.  She was also preceded in death by her daughter, Deborah "Debbie" Fahl who died September 5, 2019.
Surviving are her son, Michael "Mike" Grillo of Hornell; her daughter, Mary (Stephen) Westfall of West Palm Beach, FL; her sister, Betty Jean (Gene) Saville of Port Charlotte, FL; her son-in-law, James Fahl of Avoca; 4 grandchildren, Eric (Misty) Grillo, Jessica (Rhett) Snyder, Brian (Jessica) Fahl and Stephen (Brittany) Westfall; 10 great-grandchildren; several nieces & nephews.
Family & Friends are invited to attend a Memorial Mass (Celebration of Life) on Saturday (July 25, 2020) at 10:00 AM at St. Ann's Church with Father Stan Kacprzak officiating.
Funeral arrangements are in care of the Dagon Funeral Home, 38 Church St., Hornell, NY.
Marilyn's family request that in lieu of flowers, memorial contributions in her name be made to the Hornell Alumni Association, PO Box 135, Hornell, NY   14843
To leave an online condolence or share a memory, visit www.dagonfuneralhome.com