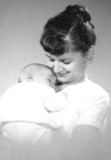 Miriam M. Carroll – 87 – formerly of Hornell, died early Saturday morning July 17th, 2021 at Elderwood at Hornell Nursing Facility where she had resided for the past two years.
Born in Burns, NY on May 31, 1934, she was the daughter of Raymond & Margaret (Lamonte)    Wilkins.
Miriam grew up in Burns, NY and was a graduate of Arkport Central School.  She later received her Certificate in Nursing from Alfred State College.
She was employed for a time as a Licensed Practical Nurse (LPN) at the former St. James Mercy Hospital and later for Noyes Memorial Hospital in Dansville.
Miriam was a talented and gifted artist who enjoyed painting and craft-working, often selling her wooden "works of art" that she created along with her husband Bill.  She was employed for many years by the former Olin Photography in Hornell "colorizing" portraits.
She had a deep affection for all animals — especially her beloved cats.  Her favorite pastime was simply spending time with her family.
In addition to her parents, Miriam was preceded in death by her husband, William "Bill" Moss; 2 brothers, Richard Wilkins and Monte Wilkins; her sister, Barbara Bennett.
Surviving are her son, John (Eileen) Carroll of Lake Anna, VA; her brother, Harold (Christine) Wilkins of Thacherville; 1 granddaughter, Alexandra (Cory) Hall; 2 grandsons, Cameron Carroll and Gunnar (Maggie) Carroll; great granddaughter Ella Hall; many nieces & nephews.
At Miriam's request there will be no calling hours.  A private graveside service will be held at Heritage Hill Cemetery in Arkport at the convenience of the family with Deacon Robert McCormick officiating.
Funeral arrangements are in care of the Dagon Funeral Home, 38 Church St., Hornell, NY.
Miriam's family requests that in lieu of flowers, memorial contributions in her name be made to the Hornell Humane Society, 7649 Industrial Park Road, Hornell, NY 14843.