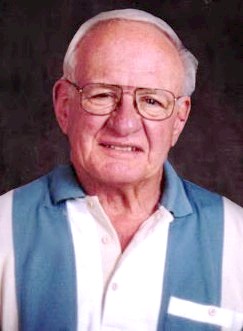 Frank T. "Slats" Andolina – 95 – of 26 Meadowbrook Rd., Arkport, formerly of Wellsville, NY, died early Monday morning (March 8, 2021) at St. James Hospital, following a long illness.
Born in Mt. Morris, NY on March 7, 1926, he was the son of Nunzio & Grace (Piraino) Andolina.
Slats grew up in Mt. Morris and was a graduate of Mt. Morris High School (class of 1944).  Immediately following high school graduation, he was drafted into the US Army and served his country in the European Theater during WWII as a demolition expert.
Following his honorable discharge in 1946, Frank returned to the Mt. Morris area.  He later enrolled at Niagara University where he received his Bachelor of Science Degree in Biology.
For over 65 years, Frank resided in Wellsville.  He was employed for about 15 years as the Laboratory Supervisor and Certified Medical Lab Technologist at Jones Memorial Hospital in Wellsville.  Later joining the staff at SUNY Alfred, Frank served as a Professor of hematology and medical lab technology.   He loved his students and received numerous accolades and awards from them.  He retired in 1985.  He has resided in Arkport for the past 7 years.
While living in Wellsville, Frank was a communicant of Immaculate Conception Church (ICS) and was a life-member of the Wellsville American Legion.  While in high school, Slats was an outstanding baseball player and continued to be a lifelong baseball fan and active fan of all other sports.
Frank had a deep love for his family (especially his grandchildren) and numerous friends, joining many of them over the years for early morning coffee at McDonalds.  He will be remembered for his love of country and community and for his great smile and terrific sense of humor.  He will be missed by everyone that had the pleasure of knowing him!
He was married on August 20, 1949 to the former Elsie Zanni who died in 2009.  Frank was also preceded in death by his granddaughter, Jill Andolina who died in 2013; 3 brothers, Dr. CT (Mike) Andolina, Joseph Andolina and John Andolina; 2 sisters, Frances Andolina and Rose Cipriano.
Surviving are his son, Dr. Richard (Molly) Andolina of Arkport; 2 daughters, Pamela (Tony) Favro of Henrietta and Patricia Andolina Persia of Spencerport; his brother, Anthony Andolina of Henrietta; 7 grandchildren, Dr. Richard Andolina Jr., Dr. Nicholas (Jess) Andolina, Mitchell Andolina, Marc Favro, Gianna Favro, Joseph Persia and Daniel Persia; 3 great grandchildren, Nicholas Jr., Jillian, and Remi; numerous nieces & nephews.
Frank had two desires about his time of passage.  He wanted to live to the age of 95 to match his brother Mike and he wanted his mental faculties intact.  He died early the morning after his 95th birthday with no cognitive impairments.  God granted him his two wishes.
Family & friends are invited to attend a Memorial Mass on Friday, July 30, 2021 at 10:00 AM at St. Ann's Church followed by a "Celebration of Life" at 11:00 AM at The Main Place in Hornell, NY.
Funeral arrangements are in care of the Dagon Funeral Home, 38 Church St., Hornell, NY.
Frank's family request that in lieu of flowers, memorial contributions in his name be made to either the Hornell Area Humane Society, Jillian Andolina Memorial Dog Park, 7649 Industrial Park Road, Hornell, NY 14843 or the David A. Howe Public Library, 155 North Main St., Wellsville, NY 14895.