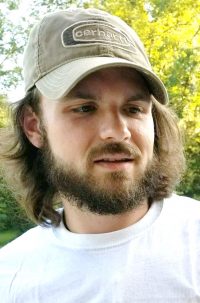 Mark L. McGregor – 31 – of  Douglas City, CA, formerly of Hornell died unexpectedly Sunday afternoon (June 27, 2021) in California.
Born in Hornell on September 19, 1989, he was the son of Benjamin McGregor and the former Anna Micglire.
Mark, affectionately known as "Woodstock", "Wookfoot", "Funky Bunch" and/or  "Brodee Bear" grew up in the Hornell – Canaseraga area and attended Canaseraga Central School & Hornell High School and later earned his General Education Development (GED) Degree.
While living in the Hornell – Canaseraga area, Mark was employed at the AAC Asbestos Removal Company for several years.  In 2017 he moved to Tennessee where he was employed at Speedy Line Striping, a company owned by his mother & step-father.   Since 2020 Mark has resided in California & Oregon where he worked as a "cultivator" for a Medical Marijuana company.
Mark absolutely was a true outdoorsman who loved nature and all of its beauty.  He enjoyed hunting, fishing, camping, hiking and climbing trees.  He also had a deep appreciation of music and especially loved going to Grateful Dead concerts.  He loved attending music festivals and would often sing when camping with his friends.  He had an affection for animals — especially dogs.
He was preceded in death by his father, Benjamin "Ben" McGregor; his maternal grandfather, Carl Micglire; paternal grandparents, Mark & Phyllis McGregor.
Surviving are his mother & step-dad, Anna & Jason Holley of Mt. Juliet, TN; his siblings, Ashley Micglire of Canandaigua, Sara Shroyer of Canaseraga NY, Devon (Laken) Mullen of Deltona, FL, Lucas (Erica Sawyer) Towner of Arkport, Matt Holley of Canisteo, Mike Holley of Canisteo, Michelle Holley of Canisteo and Travis Holley of London, OH; maternal grandmother, Mary Micglire of Clifton Springs, NY; many aunts, uncles, cousins, nieces & nephews.
At Mark's  request there will be no calling hours.  A private graveside service will be held at Rural Cemetery at the convenience of the family with Deacon Robert McCormick officiating.
Family & friends are invited to a "Celebration of Life" on Saturday, July 24, 2021 at 5:30 pm the Hornell VFW where Mark will be remembered and stories shared.
Funeral arrangements are in care of the Dagon Funeral Home, 38 Church St., Hornell, NY.
Mark's family request that in lieu of flowers memorial contributions in his name be made to the Hornell Humane Society, 7649 Industrial Park Road, Hornell, NY 14843.