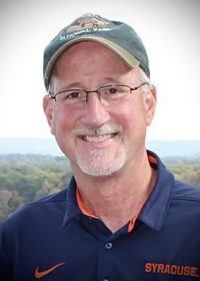 David A. "Dave" Gray – 59 – loving husband, father, son, brother, and friend, of 5791 Morton Hill Road, Hornell, died unexpectedly on Thursday, July 8, 2021.
Born in St. Louis, MO on August 22, 1961, he was the son of Dr. John and Margaret (Veth) Gray.  Dave grew up in Missouri, spending his younger years in Ferguson and attending St. John and James Catholic School.  At age 9, his family moved to Clarksville, and Dave graduated from Clopton High School (Class of 1979).  He attended Northeast Missouri State University before transferring to the University of Missouri-Rolla, where he earned his Bachelor of Science Degree in Mechanical Engineering.  In 1984, Dave was hired by General Electric Company, serving in several management and supervisory capacities, including managing a three-shift operation for the assembly of electronic jet engine controls.  In 1988, he enrolled in Harvard Business School where he earned his Masters in Business Administration.
Dave moved to the Hornell area in 1990, serving as Program Manager at Morrison Knudsen Corporation and American Passenger Rail Car Company.  He became the Senior Vice-President of Operations at Transportation and Transit Associates (TTA) in 1997, where he directed operations for TTA's Hornell, Kanona, NY and San Francisco, CA locations.  He was also the Vice-President and General Manager of Transportations Systems for AAI Corporation.
In 2003, Dave established Gray Consulting, which provided strategic plans and technical guidance to various transit clients.  In 2006, with extensive knowledge and expertise in the rail car industry, Dave founded and was the President & CEO of Gray Manufacturing Industries (GMI).  For the last 15 years, he has operated this successful business supplying manufactured and remanufactured components and technical services to the Rail Transit Industry.
Dave was a devout, lifelong Catholic.  He was a member of St. John and James Parish in Ferguson, Mary Queen of Peace Parish in Clarksville, and most recently, a dedicated parishioner of Our Lady of the Valley Parish and a communicant of St. Ann's Church in Hornell where he served as Eucharistic Minister.
Wherever Dave went, he was making friends, helping people who needed help, creating laughter and smiles, and was eager to tackle any problem for anyone at any time.  No one will ever know all the things he has done for others or all the lives he has touched along the way.
An active community member, Dave sat on numerous boards and volunteered for many organizations in Hornell.  He always found time for others, and tirelessly worked to make Hornell a better place.  He was a board member and volunteer at the Hornell YMCA for nearly 20 years and was instrumental in the construction of the new building, which was completed in 2011.  Dave was also a member of the Board of Directors of Maple City Savings Bank and The Hornell Chamber of Commerce and was a past member of the Board of Directors at St. James Mercy Hospital.  He was a United Way advocate, a lifelong blood donor for the American Red Cross, a Cub Scout Den Leader, and a Boy Scout Troop 16 Committee Member.  He was a Hornell Little League coach and was recognized as Coach of the Year in 2019.  But Dave's proudest contribution to the community was his role in the founding of St. Ann's Academy (SAA) in 2012.  For the past 9 years, he has dedicated time and resources to SAA, from raising money to keep tuition rates low for the children of the community, to purchasing equipment, wiring the building, installing white boards and projectors, fixing plumbing, shoveling snow and taking out trash, to bringing pizza to the school children and supporting the teachers and staff in every way possible.
In addition to serving his community, Dave loved gardening and working outdoors.  He cherished his yearly deer-hunting trips with friends to Wyoming.  When he wasn't working or volunteering, Dave could be found at Twin Hickory Golf Club (especially with his Ex-Gods Golf League buddies) or at his cottage on Loon Lake.  He was a member of the Hornell Association, Hornell Elks Lodge, and the Knights of Columbus.  But most of all, Dave loved the time he spent with family, especially sporting events and Boy Scout activities with his son, Nicholas.
On May 19, 2007, Dave was married at St. Ann's Church in Hornell to the former Penelope (Penny) Sherburne who survives.  Also surviving are his son, Nicholas of Hornell; step-children, Kaelyn (Matt) Willcox of East Syracuse, NY and Matthew Dessena of Conway, SC; his parents, Dr. John & Margaret (Veth) Gray of Clarksville, MO; two brothers, Joe (Jo Ann) Gray of Clarksville, MO and Mike (Sandy) Gray of St. Charles, MO; sister-in-law, Ellen Gray of Kirksville, MO; his mother- and father-in-law, Dave & Liz Sherburne of Hornell; brother-in-law, John (Diana) Sherburne of Marstons Mills, MA; sister-in law, Kim Sherburne of Lakewood Ranch, FL; several God-children; many aunts, uncles, nieces, nephews, cousins, and dear friends.
Dave was preceded in death by his brother, Mark Gray in 2017; two infant siblings, Teresa Gray and Stephen Gray; grandparents, James & Anna Gray and Otto & Theresa Veth.
There are many words to describe David Gray…  selfless, honest, trustworthy, passionate, hard-working, giving, brilliant, and kind to name a few.  Dave was generous beyond measure and would give everything he had to his community and commitments. But most of all, he was a devoted husband to Penny, a proud and loving father to Nicholas and step-children Kaelyn & Matthew, a loyal and attentive son, brother, and friend.
Knowing Dave had an impact on the lives of so many, friends are encouraged to send a letter to Dave's son, Nicholas, sharing a story or anecdote about how Dave touched your life.
At Dave's family's request, there will be no public calling hours.  Family and friends are invited to attend a Mass of Christian Burial on Tuesday (July 20th) at 10:00 AM at St. Ann's Church with Fr. Stan Kacprzak officiating.  The Funeral Mass for David A. Gray will be streamed live and can be viewed on the Dagon Funeral Home Facebook page on Tuesday at 10:00 AM by visiting www.facebook.com/dagonfuneralhome.  Burial will be in St. Mary's Cemetery.
Dave's goal was for St. Ann's Academy to serve the children of our community for generations to come.  Friends and family have agreed to establish a long-term fund in his name.  To help achieve that goal, please consider a gift to St. Ann's Academy, 41 Genesee St., Hornell, NY 14843.
Funeral arrangements are in care of the Dagon Funeral Home, 38 Church St., Hornell, NY.
To leave an online condolence or share a memory, visit www.dagonfuneralhome.com or www.facebook.com/dagonfuneralhome.